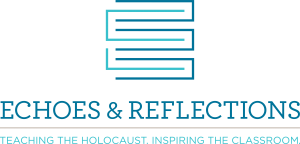 Echoes & Reflections is a Holocaust-focused multimedia professional development program providing secondary teachers in the United States with accurate and authentic Holocaust information for their classrooms.
Rich with testimony clips from 51 Holocaust survivors, rescuers, and American liberators, and seamlessly integrated into 10 multi-part lessons, Echoes & Reflections explores major themes associated with the Holocaust.
Developed by the USC Shoah Foundation, Yad Vashem, and the Anti-Defamation League, Echoes & Reflections sponsors workshops around the country at no cost to teachers or schools. Participants receive a complimentary copy of the 10-part Teacher's Resource Guide.
The Resource Guide includes photographs, literature, artwork, diary entries, government documents and other primary source materials that teachers may easily photocopy and distribute to students. Lessons also incorporate testimony from USC Shoah Foundation's Visual History Archive on DVD. Each lesson addresses Common Core State Standards, and each one has been integrated into IWitness, USC Shoah Foundation's educational website.
The 10-part program begins with an overview of the Holocaust. Subsequent lessons include "anti-Semitism," "Nazi Germany," "The Final Solution" and "Perpetrators, Collaborators and Bystanders."