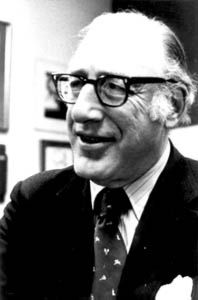 Fred Friendly was a celebrated journalist who produced hard-hitting news documentaries in the 1950s and 60s and became president of CBS News.
A frequent collaborator with TV news pioneer Edward Murrow, Friendly was known for his probing reports about the atomic bomb, Senator Joseph McCarthy's anti-Communist crusades and migrant farm workers. He won a George Polk Award and was inducted into of the Television Hall of Fame in 1994 – four years before his death at age 82.
In his younger years, Friendly served in World War II as a journalist working for Stars & Stripes and other military newspapers. He witnessed the 11th Armored Division of the Army in May of 1945 liberate the Mauthausen concentration camp in Austria.
In an impassioned letter to his mother Therese, Sgt. Friendly, then age 30, described the horrific scene he came upon at Mauthausen.
"I want you to know," he wrote, "I want you to never forget or let our disbelieving friends forget, that your flesh and blood saw this."
The following passage is from Chapter 4 of Willing to be Lucky by Andy Friendly, Fred Friendly's son:
My dad spent most of the war in the China-Burma theater as a reporter for the Army newspaper, the China-Burma-India Roundup, and as a motivational speaker to the troops. Near the end of the war, he came up with the idea of swapping places with a reporter from Stars & Stripes. That reporter turned out to be Andy Rooney, who became one of his closest lifelong friends and a decades-long star of 60 Minutes. Dad went on to Europe to continue his reporting for CBI Roundup, while Rooney went to the Pacific. Soon after Dad witnessed the 11th Armored Division of the Army liberate the Mauthausen concentration camp in Austria, he wrote a letter to his mother, Therese.

Our family reads it during Jewish holidays every year. Over time, friends and relatives have heard about it, and read it as well.

I've always been interested in how WWII changed my dad's life and worldview and how not going to war changed mine, and the comparisons between the two.

While I feel blessed to have drawn a high draft number and to have gone to college instead of Vietnam, in many ways I envy my dad and his "Greatest Generation" their service to their country in World War II.

As opposed to Vietnam, it was a "just" war that had to be fought and, as with my dad, it forged boys into men (those who survived).

In Dad's case, growing up an only child with dyslexia, having lost his dad at 11, and facing the challenges I described earlier; the Army, he said, "made a man out of me." He had just two years of junior college and self-deprecatingly referred to the Army as "my Rhodes scholarship."
Here is the letter in full: