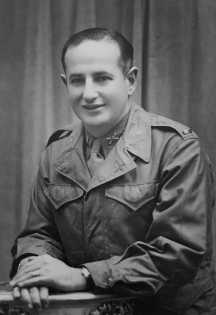 During his travels through war-ravaged Europe, Lt. Harry K. Wolff faced many obstacles that seem minor today, but were difficult to overcome at the time: Ink could be in short supply and he often had to keep his activities a secret, even as he wrote his wife nearly every day while he was away.
Wolff was a 30-year-old lawyer when he entered the war— older than the average soldier. As a member of Patton's 3rd Army, his Anti-Aircraft unit was attached to the 1st Army for the D-Day Invasion under General Bradley, and he was often called upon to serve as a Judge Advocate in Military Tribunal Hearings.  Following VE-Day he spent three months living at the Dachau concentration camp when it was an SS prisoner of war camp operated by the US Army that held as many as 31,000 Nazi and SS troops, any of whom were awaiting trial for war crimes.
Like many people of that era, he rarely spoke about his experiences during the war. It wasn't until after he died that his daughter and son-in-law began to realize the importance of his collection, including a trove of letters he wrote daily to his new wife that detailed his life during the war. Below is a small insight into the life of a soldier in newly liberated Europe.