USC students explore opposition to genocide past and present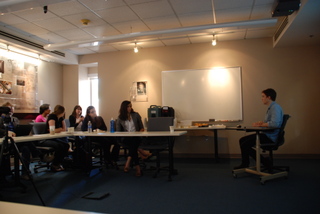 On April 3, 2012, four USC students came to the Shoah Foundation Institute to discuss the research projects they conducted over the summer in connection with an interdisciplinary research cluster led by Executive Director Stephen D. Smith and Wolf Gruner, Shapell-Guerin Chair in Jewish Studies and a professor of history in the USC Dana and David Dornsife College of Letters, Arts and Sciences. The research cluster, which is part of USC Dornsife 2020, investigates why certain individuals, groups, or societies do or do not follow the path of mass violence and genocide. More
Jasneet Aulakh, a junior majoring in history, English, and philosophy, politics, and law, used personal interviews to debunk the myth that the 1984 anti-Sikh pogroms in India pitted the entire Sikh community against the entire Hindu community.
Heather Ashby, a PhD candidate in the USC Dornsife History Department, studied black radical activism between the First and Second World Wars, examining how people of African descent articulated connections between the oppression of Africans and Jews during the 1930s.
Roza Petrosyan, a junior majoring in history and psychology, used survivor testimony to explore women's resistance to the Armenian Genocide.
Jeremy Schwartz, a senior majoring in international relations, conducted research for his documentary film Resilience, which explores the post-conflict resistance and activism of organizations that help rehabilitate survivors of mass violence. The film includes interviews with survivor-activists from Columbia, Ethiopia, and Somalia.