By Rennie Svirnovskiy
The impeccably dressed man stood in line for his food like everyone else waiting around a soup kitchen in Portugal for refugees displaced during World War II.  He spoke with his family in fluent Portuguese. 
Confused by the presence of these locals in the refugee hall, a teenage volunteer approached the man to let him know that his family was in the wrong place. The Portuguese dining room, he said, is in an adjacent hall. "This dining room is for the refugees."
"I know," said Aristides de Sousa Mendes. "We, too, are refugees." 
Isaac Bitton, the volunteer whose aunt ran the refugee soup kitchen in Lisbon, recalls this moment with Sousa Mendes, also known as the "Portuguese Schindler," during a 1996 interview with USC Shoah Foundation. In his testimony, Bitton describes the lengthy conversation he had in the refugee hall with Sousa Mendes, who had been expelled from his post as the Portuguese consul in France as punishment for issuing visas to Jews and other stateless refugees. 
"I still couldn't quite understand exactly why should a man of such a stature be expelled because he gave visas," Bitton said. "He was saving lives. The Portuguese government should be honored to have such a man on their team. But that was not the case." 
Bitton is one of several USC Shoah Foundation interviewees whose lives intersected with the consul's. Others include two of the consul's sons and a handful of survivors with whom he had varying degrees of interaction, from a man whose family fled to France and received a stamp from Sousa Mendes, to a woman whose passport narrowly got her across the border. 
In their testimonies, they shared more of his story.
Over the course of one week in June of 1940, Sousa Mendes – whose biography was recently featured in the New York Times – defied his own government's orders to exclude certain asylum seekers and provided visas to roughly 30,000 people desperate to escape Nazi persecution.  
The crush of refugees flooded Bordeaux, France – where Sousa Mendes was stationed – after the Germans invaded Belgium and another part of France. Among them was the Belgian family of Henri Deutsch, who was 9 when German bombs began falling on his hometown of Antwerp. After crossing into France on foot with their possessions packed into a wheelbarrow, Deutsch's family made their way to the consul's office in Bordeaux, hoping to find refuge in Portugal. 
"In the past, you had to have a passport to have a visa," Deutsch said in his 1995 interview with USC Shoah Foundation. "In our case, when we left, my parents didn't take a passport along. So (Sousa Mendes) issued visas on just a slip of paper." 
Having learned from his brother – another diplomat – of the atrocities committed at Warsaw, Sousa Mendes enlisted a small cadre of people to help him stamp as many passports and identity cards with his signature as they could. Assisted by his sons, his deputy and a Polish rabbi named Chaim Kruger, Sousa Mendes enabled tens of thousands of refugees to enter Portugal.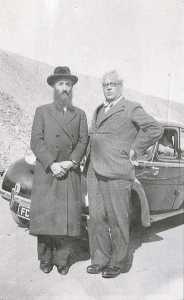 Eventually, Spanish border police began turning back the holders of his visas. 
The family of Holocaust survivor Esther Dresner had a visa from Sousa Mendes that would have been among those revoked, had it not been for a lucky second signature. 
"Even though his own gesture couldn't help us, I still feel a tremendous debt of gratitude for having done it for so many people," Dresner said in her 1996 interview with USC Shoah Foundation. 
Sousa Mendes's heroic efforts abruptly ended when he was recalled from Bordeaux back to Portugal. 
After responding to his orders to return to Lisbon, Sousa Mendes was tried and dismissed from the diplomatic service by the authoritarian Portuguese government. A devout Roman Catholic with an enormous family of his own, Sousa Mendes struggled to understand how Prime Minister Antonio de Oliveira Salazar – a fellow Catholic – could take a neutral stance on Nazi Germany during the war and instruct consulates to avoid issuing visas to expelled Jews. 
"(Sousa Mendes's) conscience did not allow him to allow so many people to die, simply because they were Jews," Bitton said. 
Stripped of his pension rights, Sousa Mendes died in poverty in 1954. At his urging, 11 of his 15 children left him and his legacy behind in Portugal to live in the United States and Canada. For decades after his death, Portugal boasted of all the things it had done for those fleeing the Holocaust, but omitted any mention of Sousa Mendes. 
"He couldn't have done any different," said Sousa Mendes's son, Carlos Mendes, in his 1996 interview with the Institute. "I don't think he could have accepted it if he refused visas to all of those people, no matter nationality or religion. If he had done that, I think he would have felt very unhappy." 
Sousa Mendes would not reconcile with Portugal before his passing. The Yad Vashem Holocaust memorial was among the first to honor his efforts in 1966, recognizing him as a "Righteous Among the Nations." In 1980, the Portuguese government rehabilitated his name, apologized to his family and posthumously promoted Sousa Mendes to the rank of ambassador. 
In 2017, a museum opened on the property of the Sousa Mendes family in north Portugal. Prior to the opening, the director came to USC Shoah Foundation to watch testimonies of survivors who were rescued by Sousa Mendes.
"Now I am sure they are proud of my father," Mendes said.