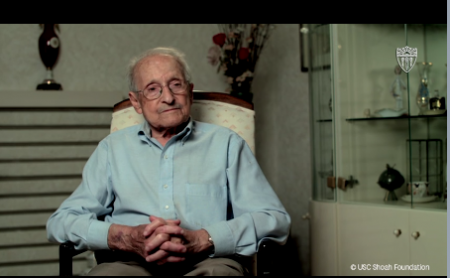 USC Shoah Foundation lost a good friend last week with the passing of Stanley Bernath. The Cleveland resident died March 26, just two days shy of his 93rd birthday.
But his message of hope in the face of adversity will continue to be heard because of the testimony he gave to USC Shoah Foundation. He also participated in the Institute's Dimensions in Testimony program, which will enable future generations to ask him questions and receive answers he recorded in 2017. Working with USC Shoah Foundation to bring Bernath's interactive testimony to the public was the Maltz Museum in Cleveland, where Bernath often spoke.
Born March 28, 1926, in Carei, Romania, Bernath was deported to Auschwitz in 1944. He survived three more concentration camps before being liberated. He moved to the United States in 1946 and quickly joined the U.S. Army and served during the Korean War. After spending time in New York, Bernath and his wife, Arlene, and their twin daughters, Vera and Lisa, moved to Cleveland in 1955.
After a stint working as an electrician and a foreman, Bernath quit his job to start a business as an electrical contractor. He called it Stanley Electric. He later started a window-manufacturing enterprise with his son-in-law called Stanley Windows. The family business took off: the factory built up to 30,000 windows a year and employed 65 people. Bernath eventually sold the company and then started a construction business; at age 91 he was still running it with his son-in-law.  
Although Bernath refrained from speaking about his wartime experience for several years, he spent decades speaking at hundreds of schools, synagogues and churches. He was also a regular volunteer at a Jewish nursing home and was named the Volunteer of the Year by the Cleveland Jewish News in 2018.
In his Dimensions of Testimony interview, Bernath described the horrific conditions of the concentration camp when the Allied forces arrived on May 6, 1945.
"The day before – May 5 – I ate some grass, and I found … some kind of a bug. I swallowed it. I didn't know what else to do because I didn't have any strength to do anything," he said. "May 6, 1945 is my birthday. May 5 I died. I was revived, reborn in '45 – May 6."
Kia Hays, a program manager at the Institute, got to know Bernath when they worked on Dimensions in Testimony together.
"I treasure the time I got to spend with Stanley," Hays said. "He was a kind, thoughtful and witty man, and he will be missed by all who knew him. But it's comforting to know that future generations will continue to have their hearts and minds touched by this wonderful man."
Bernath himself understood the importance of sharing his story. And he was proud to be among the first to participate in the interactive Dimensions in Testimony project.
"Years from now, none of us survivors will be available," he said last year. "We'll be all gone. Children or adults can always ask questions. They'll be able to see it and hear what I have to say about what I went through."