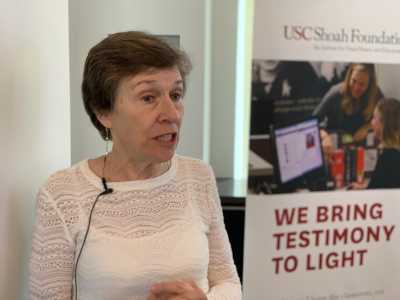 While both men and women faced horrible fates during the Holocaust, the paths to genocide for women often varied from their male counterparts in many ways.
Discovering those differences has been a career-spanning field of study for Marion Kaplan, the Skirball Professor of Modern History at New York University.
Kaplan is the 2019 Sara and Asa Shapiro Scholar in Residence at USC Shoah Foundation's Center for Advanced Genocide Research. In a lecture on April 11, she talked about how men and women reacted differently to the horrors around them, as well as the history of the research into the long-neglected field of study. She spent a week at the Institute, using many of the 55,000 testimonies of Holocaust survivors in the Visual History Archive.
"We know the Nazis did not want to, quote, 'share the earth' with Jewish people," said Kaplan, a three-time winner of the National Jewish Book Award. "However, gender helps to tell a fuller, more intimate and more nuanced story. It gives Jewish women a voice long denied us."
In the lecture, "Did Gender Matter During the Holocaust?" Kaplan not only talked about the survival strategies of survivors, but also how the scholarship has changed in the decades after the war.
Although the Nazis pursued Jewish men and women with equal ferocity, women had to deal with the issues such as motherhood, pregnancy, the uprooting of their often middle-class lives and the constant threat of sexual violence. Men, on the other hand, tended to be more concerned with financial stability, business affairs and physical assault.
"Without women's memories, we miss half the story of the Holocaust," she said. "More specifically, without women's memory, we miss the family and domestic aspects of the Holocaust."
She noted that Jewish women in Germany were better attuned to the changing attitudes of their fellow citizens.
"In contrast to men, women often took the early warning signals of Naziism more seriously than men, adjusting to the abrupt changes in law and culture imposed by the party and embraced by many non-Jewish Germans," she said.
Women were also faster to alter their attitudes as their world began to crumble.
"Women eagerly trained for jobs and crafts useful abroad, whereas men hoped to be able to maintain their careers in Germany," Kaplan said. "At home, women made do with smaller budgets, shopped in hostile stores and tried to create cheer in cramped spaces, while their husbands were asked to limit only their expectations."
And it was women who were more eager to start new lives elsewhere.
"Gender made an enormous difference between fight and flight," she said. "In the early years, Jewish women were more sensitive to discrimination and more eager to leave Germany. Jewish men thought they had – and did have – a great deal more to lose by leaving. These men had to tear themselves away from their life's work."
Women also sometimes had to face impossible choices, such a bartering their bodies for a few days of safety. And they also felt humiliation more deeply when forced to undress in front of guards or when they had their heads shaved for the first time.
Kaplan also spoke about the changing attitudes of scholarship. Research after the war didn't ignore the plight of Jewish women, but it didn't look at their unique experiences either. And there was even resistance in some quarters. Kaplan said that in the 1990s, when scholars of gender studies began looking into the topic, they were viewed with hostility, even being likened to Holocaust deniers.
That's changing, she said. Today, researchers are more open to delving into the woman's perspective of the Holocaust. She noted that there has been a blossoming of work in Eastern Europe, with hundreds of memoirs by female survivors being published in recent years. And people are more open to studying issues related to sexuality that were taboo in the past.
"If we approach topics in a gendered way, might it change the narrative?" she asked. "How might this change our understanding?"