A delegation from USC Shoah Foundation traveled to Rwanda this month to participate in events marking the country's 25th anniversary of the Genocide against the Tutsi, including the dedication of the Garden of Memory in Kicukiro.
Joining First Lady Jeannette Kagame, local leaders, and long-time program partners Aegis Trust at the dedication ceremony from the Institute were Senior Director of Programs and Operations Kori Street, Associate Director of Education – Evaluation and Scholarship Amy Carnes, Senior Executive Director of Advancement Andrea Waldron, and Next Generation Council members Jodi Harris Schwartz and Qanta Ahmed.  The group attended at the invitation of Aegis Trust.
The Memory Garden is one of Rwanda's latest effort to confront its genocidal past while inspiring a more peaceful future. Located adjacent to Nyanza Genocide Memorial Centre, the Garden of Memory symbolizes both the rebirth of life after the genocide and the protection that nature provided survivors.
The event was part of the nation's Kwibuka 25 activities, which his named for the Rwandan word for "remember."
Street noted the years of partnership between the Institute and the Kigali Genocide Memorial and Aegis Trust to bring the Institute's educational programs to the country, most recently with the launch of the IWitness Rwanda Umbumuntu homepage in IWitness that will link to their new digital platform. The education programs are founded on the 88 testimonies from Rwandan survivors in its Visual History Archive, a collection of 55,000 interviews with survivors and witnesses to genocidal violence around the globe.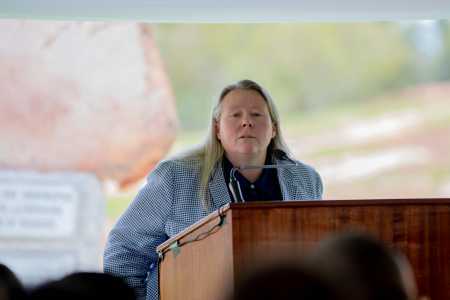 "I have listened to those stories of what happened here in 1994 and have learned from them what happens when identity-based hatred is allowed to descend into violence," Street said. "And I have learned from survivors like Live Wesige, whose testimony describes what happened to him and so many others who did not survive here on this ground. It is with great humility that I stand with you now to share in this moment of hope and renewal."
When completed, the Garden of Memory will cover 7.5 acres and include a stone monument, a dry garden, landscaped terraces, a meditation corridor, marshlands and an amphitheater. It's located at a place where thousands of Tutsis were killed.
It will also include waterways, rivers, trenches, trees and flowers, to represent places where victims were killed or thrown dead or alive, retrieved alive or dead during the genocide.
"Twenty-five years ago, this was a place of division, destruction and death," Street said. "Today it is a place of remembrance, unity and renewal."
Kagame and the other invited dignitaries, including James Smith of Aegis Trust, planted what is being called the Umurinzi Tree, which means "guardian" in Kinyarwanda.
"Constructing this garden of memory on a site that faces bad history of genocide is a symbol that will keep reminding us that life continues, although there are those who wished death for us," Kagame said.
In her remarks, Street promised that USC Shoah Foundation will continue to work with their friends in Rwanda to bring its message of empathy and respect to young people..
"We are here once more for the 25th commemoration to remember with you," she said. "And we will continue to be here, to witness, to remember, and to unite towards a more peaceful Rwanda and a more peaceful world."