As the United States plunged into World War II after the attack on Pearl Harbor, few American civilians or soldiers knew what was happening to the Jews of Europe.
And so, even as the deadliest, most destructive war in history came to a close, soldiers from the U.S. and women who served in the U.S. Army Nurse Corps — along with their Allied partners from the UK, the Soviet Union and other countries — were not prepared for what they would encounter as they uncovered the Nazi atrocities both in the field and the concentration camps.
This theme underpins Liberation Heroes: The Last Eyewitnesses, a documentary film produced in association with USC Shoah Foundation that will premiere Wednesday (4 p.m. PT/ 7 p.m. ET) on the Discovery Channel in honor of Holocaust Remembrance Day. The program will also air in some 200 countries and territories around the world.
The film is directed by Oscar® and Emmy®-Award-winning filmmaker Vanessa Roth, and produced by June Beallor, a Founding Executive Director of USC Shoah Foundation, whose films have garnered an Oscar® and numerous Emmys®, and produced by veteran Emmy®-nominated TV and news producer and executive Andy Friendly, a member of the Institute's Board of Councilors.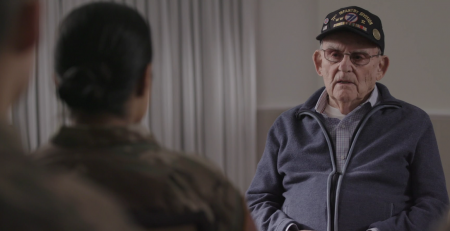 The hour-long film is a mosaic of current interviews, dramatic war footage, letters from the front lines, and testimonies that were recorded by USC Shoah Foundation from 1994-1999, shortly after the organization was established by Steven Spielberg 25 years ago. Holocaust liberators and liberation witnesses make up about 400 of the Institute's 55,000 testimonies of genocide survivors and witnesses.
In these new interviews and in exploring this unique part of USC Shoah Foundation's Visual History Archive®, Liberation Heroes – which premieres a few weeks before the 75th anniversary of D-Day — shares the veterans' cautionary tale of what can happen when insidious hatred remains unchecked.
 "The veterans featured in the film have seen the worst consequences of hatred," said producer June Beallor.  "With the rise of antisemitism, xenophobia and isolationism — all across the globe — their message is more relevant than ever. It is an important time to heed their warning as they pass the baton to the next generation."
Bridging generations is a key theme in the film, which prominently features a conversation between Alan Moskin – who served as a staff sergeant in General George Patton's Third Army – and a diverse class of ROTC cadets at Rutgers University.
"There's over 800 hate groups in the United States of America," Moskin tells them. "You gotta get rid of all of it – my generation didn't do it."
Through dramatic footage and expert interviews, Liberations Heroes deftly contextualizes the trans-Atlantic dynamics fueling the ramp-up to World War II.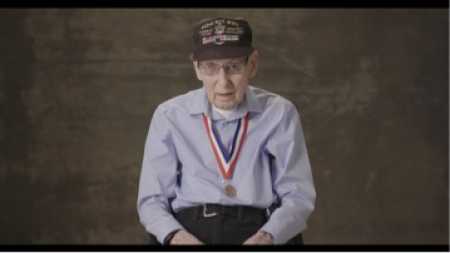 "In the United States it was difficult to imagine that Nazi Germany could be a threat," says USC Shoah Foundation Finci-Viterbi Executive Director Stephen Smith in the film. "But if you were living in Europe in the 1930s, it was very clear that this regime was very dangerous."
The film takes an unvarnished look at American attitudes on Jewish persecution in Europe, underscoring how the line between ignorance and indifference was often blurry.
Dr. Michael Berenbaum, the film's Chief Historian and a former executive director of USC Shoah Foundation, points out that urgent, in-person messages with detailed warnings of what was happening to the Jews of Europe were delivered to the Pope and President Franklin Delano Roosevelt. He notes that while major news outlets reported about Jewish mass deportations and annihilation, the articles were found deep in newspapers. Nothing was done.
The heart of the documentary is made up of candid interviews with a handful of liberators and liberation witnesses from a wide array of backgrounds. They include 101-year-old Virgil Westdale, a Japanese-American soldier who lived in fear during the war that his father would be relocated to a concentration camp in the United States; Leon Bass, an African American who fought in the Battle of the Bulge and for freedoms he himself was not afforded at home; military nurses; Soviet Red Army soldiers; American soldiers from the Midwest; and a British Army veteran who served as a Jewish Chaplain.
On their way to victory, they witnessed hell. The Allied Forces fought in the Battle of Stalingrad, stormed the Beaches at Normandy and fought in the Battle of the Bulge.
Anatolii Gel'man of the Soviet Red Army pulled his own brother's lifeless body out of a burning tank.
"I was able to get him out of the tank and bury him in an unmarked grave," he says.
But it was the hidden horrors of the death camps that left them most traumatized.
Fred Friendly – a war reporter for the military who would later become president of CBS News – tried to find the words in a letter to his mother after he witnessed the 11th Armored Division of the Army liberate the Mauthausen concentration camp in Austria in May of 1945.
"Before I leave Europe, I must write this letter in an attempt to convey to you that which I saw and felt and gasped at," he wrote. "Your flesh and blood saw this – this was no movie. … This is my Mauthausen letter. I want to put it away and every Yom Kippur, I want you to take it out, and make your grandchildren read it." 
Friendly's son, Andy Friendly – a member of USC Shoah Foundation's Board of Councilors – was a producer of the film, alongside Beallor.
 "We are using this amazing resource that Mr. Spielberg envisioned to remind people that hate unchecked can fester," he said.
Friendly said if there is one message people take from the film, it is a quote from William Levine, a Jew from Minnesota who was drafted and served as an anti-aircraft artillery intelligence officer: "To raise a child without any kind of prejudice. … That is the key. If we find that key, we've got it made."
Filmmaker Vanessa Roth also directed The Girl and The Picture, a 2018 documentary produced in association with USC Shoah Foundation about the 1937 Nanjing Massacre.
"These women and men didn't share their stories to be in a film or to be recognized as heroes," Roth said. "They shared their stories because they saw no greater purpose in their lives than to bear witness to what they saw, what they felt, and what they would never forget so that time never erases the horrors that ignorance and hatred breed."
Liberation Heroes: The Last Eyewitnesses was directed by Vanessa Roth, and produced by June Beallor Productions and Andy Friendly Productions in association with USC Shoah Foundation for Discovery and Executive Produced by Finci-Viterbi Executive Director Stephen D. Smith, PhD, and Andi Gitow, USC Shoah Foundation's Director of Strategy, Partnerships and Media Production, along with Board members Mickey Shapiro and Ceci Chan, whose generous support made the film possible. Ford Motor Company provided additional funding.