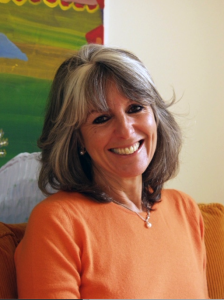 LOS ANGELES, Calif: July 1—USC Shoah Foundation—The Institute for Visual History and Education (USC Shoah Foundation) announced today the appointment of Lee Liberman as Chair of its Board of Councilors and Joel Citron as Vice Chair effective July 1, 2019. 
Ms. Liberman, a citizen of Australia, is the Institute's first chair based outside of the United States. She and Mr. Citron have each dedicated many years to USC Shoah Foundation, both serving on the Executive Committee of its Board of Councilors.

"Lee's vision, passion and experience working on three continents will help guide USC Shoah Foundation during a critical moment in world history, one in which preserving the memory of the Holocaust and countering hatreds, including antisemitism, are more important than ever," said USC Interim President Wanda M. Austin.
"USC Shoah Foundation is a global institute that serves millions of people throughout the world," said USC President-elect Carol L. Folt. "Under Lee and Joel's leadership, the board will continue to advance the Institute's educational mission, and promote empathy, compassion and inclusion through knowledge and learning."
Ms. Liberman is Principal and Chair of the Lee Liberman Foundation, which provides strategic grants to non-profit partners working to strengthen the fabric of cultural and civil society in Australia, Israel and the United States.
In addition to her long-standing position as a member of USC Shoah Foundation's Board of Councilors, Ms. Liberman is a Director and a major supporter of the General Sir John Monash Foundation in Australia, which awards the prestigious John Monash Scholarships to young Australians pursuing post graduate degrees internationally.
In January 2015, Ms. Liberman attended USC Shoah Foundation's mission to Poland, where it co-organized "Auschwitz: The Past is Present," a commemoration observing the 70th anniversary of the liberation of the Nazi death camp. Holocaust survivor Eva Slonim, Ms. Liberman's aunt, together with Eva's sister Marta Wise, are pictured in the famous photograph of children behind barbed wire at Auschwitz after liberation. Both have given testimony to USC Shoah Foundation's Visual History Archive (VHA).

"We are grateful that Lee has accepted this expanded role at the Institute during a pivotal time when her leadership will guide the long-term sustainability of the organization," said Stephen D. Smith, Finci-Viterbi Executive Director of USC Shoah Foundation. "On our board, Lee envisioned and implemented a new global distribution model for the Visual History Archive through partnerships and research. Her foresight and expertise have allowed USC Shoah Foundation to have the kind of global impact that Steven Spielberg sought when founding what would become the Institute 25 years ago."

As a committed supporter of the arts, Ms. Liberman has also served on the Council of the Australian National Gallery and the Australian National Gallery Acquisitions Committee. She is a past Vice Chair of the University of Haifa Board of Governors, where her support enabled VHA access sites at the University of Haifa in Israel, and Monash University in Melbourne, Australia. 

Ms. Liberman is publisher and editor of A Day in the Life of Israel, Jerusalem in the Shadow of Heaven, and A Day in the Life of Africa, and is Chair of the Day in the Life of Africa AIDS Education Fund.
"I am deeply humbled and feel extremely honored to have been offered the Chair of USC Shoah Foundation and I thank the University of Southern California for its trusting support," said Ms. Liberman. "This unique archive of 55,000 testimonies from the Holocaust - the Shoah - and sadly, testimonies from genocides and mass atrocities in Armenia, Rwanda, Cambodia, Nanjing, Guatemala, and of course, Myanmar against the Rohingya, is unique in the world for its depth of content.
"Significantly, we are now employing testimony to counter contemporary identity-based hatred," Ms. Liberman added. "Over the past few years, I've witnessed the Institute evolve into a mature organization with proven programs that are ready to expand. I hope to bring our partnerships to global scale and ensure our long-term viability."
Joel Citron is CEO of Tenth Avenue Holdings. Born in Sweden and the son of Holocaust survivors George and Elisabeth Citrom, Mr. Citron serves on the boards of Birthright Israel Foundation, UJA NY, Paideia – The European Institute for Jewish Studies, the Starfall Education Foundation and the Auschwitz Birkenau Memorial Foundation. He is also the past President and current Board Member of the Abraham Joshua Heschel School. Mr. Citron holds a Master of Arts degree in Economics and a Bachelor of Science degree in Business Administration from USC.
Recently, Mr. Citron was instrumental in developing a partnership with the Swedish History Museum, which became the first European museum to display the Dimensions in Testimony interactive biography exhibit created with USC Shoah Foundation by renowned Broadway designer David Korins.
"It is our great fortune to have Joel Citron become Vice Chair, where his clear-sighted vision and exemplary leadership can further inspire fellow board members, those of us on the staff, and the many new partners we need to advance our programs and initiatives," said Dr. Smith.
Mr. Citron chairs USC Shoah Foundation's Countering Antisemitism Through Testimony advisory committee, which, under his leadership, has developed a new standard for innovative education deployed globally.
Mr. Citron's parents both gave their testimonies to USC Shoah Foundation's Visual History Archive. Mr. Citron's wife Ulrika, the daughter of a Dutch Holocaust survivor, serves as co-chair of USC Shoah Foundation's Next Generation Council.
 "Antisemitism and hate-based incidents are on the rise throughout the world, so it is incumbent on us to counter the surge in a meaningful way," Mr. Citron said. "This is the essential challenge of my lifetime, and I am committed to do all in my power to highlight the humanity of the victims and the dangers of unchecked bigotry, and to find audiences and partners who can amplify our proven educational programs."