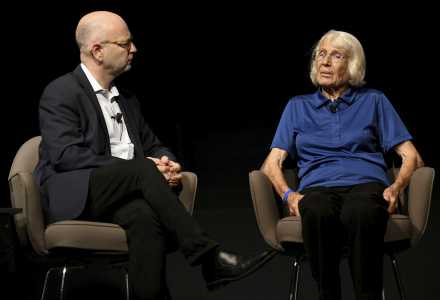 When Ursula Martens was a little girl living in Germany, she was happy to be forced by law at age 10 to join the Hitler Youth. 
"Everything was free," she said. "You could go to theaters. … They would send you on vacations with other children at nice resorts." 
It wasn't until she was a little older that she realized something was wrong.
Martens, now a public speaker about the dangers of hate and intolerance, shared her perspective at a panel discussion -- hosted by USC Shoah Foundation Finci-Viterbi Executive Director Stephen Smith -- at a screening last week for the first episode of a new docuseries on the origins of hate that debuts tonight.
Executive produced by Academy-Award winning documentary filmmaker Alex Gibney and USC Shoah Foundation founder Steven Spielberg -- and directed by Geeta Gandbhir and Sam Pollard -- "Why We Hate" will begin airing at 10 p.m. tonight on the Discovery Channel, with each of the five additional episodes airing each subsequent Sunday. At the heart of this series is the notion that if people begin to understand their own minds, they can find ways to work against hate and keep it from spreading.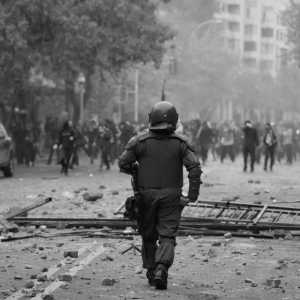 USC Shoah Foundation and Discovery Education have partnered to develop classroom curriculum tied to the docuseries.
The panel before the screening on Oct. 7 at the Museum of Tolerance in Los Angeles featured people -- like Martens -- who work to combat hate. A second panel after the screening featured the filmmakers. 
Martens said her wakeup call came toward the end of World War II, when she witnessed American soldiers carrying the body of a Jewish prisoner -- a girl in a striped suit who looked to be Martens' age at the time, 14. 
"I wanted to die right then," she said.
Also on the first panel was Edith Umugiraneza, a survivor of the 1994 Genocide Against the Tutsi in Rwanda and a longtime employee of USC Shoah Foundation.
"Because of hate, I became an orphan," she said. 
The situation in Rwanda, she said, deteriorated rapidly due largely to media and propaganda.
Umugiraneza spoke about how, earlier this year, she made a pilgrimage to a Rwandan prison to confront -- for the first time -- the people who murdered her family members. 
"Some of them showed remorse," she said. "Others, not at all."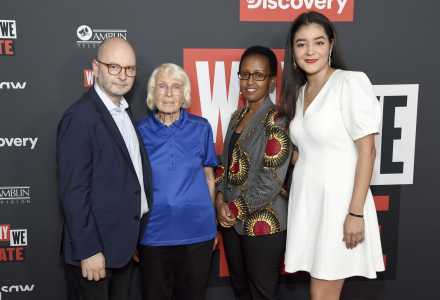 With hate on the rise around the world, it is important to remember that the movements are not organic, said panelist Sasha Havlicek, the executive director of the Institute for Strategic Dialogue -- a "think and do tank" to counteract rising extremism around the world. 
"In reality often we see decades-long investments -- strategic investments -- in organizing the cultural and the ideological underpinnings of these movements," she said. "It's well organized, it's well orchestrated, often boosted by state actors."
Havlicek added that hate movements are using the internet to exploit "identity anxieties" to expand their reach further and faster than ever before. 
"It gives us hope," she said. "Because actually, we can do the same back." 
The fourth member of the panel, Xenia Bernal, is a recent high school graduate and intern at USC Shoah Foundation who was inspired to become an activist by the 2014 shooting of a 12-year-old black boy named Tamir Rice by a white police officer near Cleveland. 
Bernal said she believes people can learn to become more empathetic.  
"When you have empathy, you have a personal connection," she said, adding that empathetic people see others as members of families just like them. "This is humanity, let me protect my fellow human being."  
In remarks kicking off the Oct. 7 event, Discovery President and CEO David Zazlav -- who sits on USC Shoah Foundation's executive committee -- said the series originated with a conversation he had with Spielberg five years ago, when he brought up the idea of using Discovery's enormous platform to warn the world against the dangers of hate.
"Neither of us could have imagined that five years later we would be at a very difficult moment," Zazlav said. "When I say 'we,' I don't mean just America, I mean around the world. Whether it's because of the technological revolution or the fact that the economies are struggling, we certainly face a lot of the basic elements that we faced between 1925 and the end of the 30s."
The curriculum produced by the educational partnership will incorporate testimony from USC Shoah Foundation's Visual History Archive and weave in excerpts from the docuseries to craft learning activities to help students understand the dangers of hate, antisemitism and racism -- and where they can lead.
Educators and students using the recently launched Discovery Education Experience and other digital services will shortly receive access to the "Why We Hate" curriculum, which includes a variety of exclusive videos, classroom activities, lesson plans, a take-home parent viewing guide, and more. 
The activities will be posted on TeachingWithTestimony.com, an educational program stemming from the partnership between USC Shoah Foundation and Discovery Education that unlocks the powerful classroom potential of testimony.
"We have a lot to deal with, and it's a great moment for us to have explored this," Zazlav said. "People all around the world will see it, and let's hope that we can do what we try and do when we are at our best, which is not just educate, but inspire."