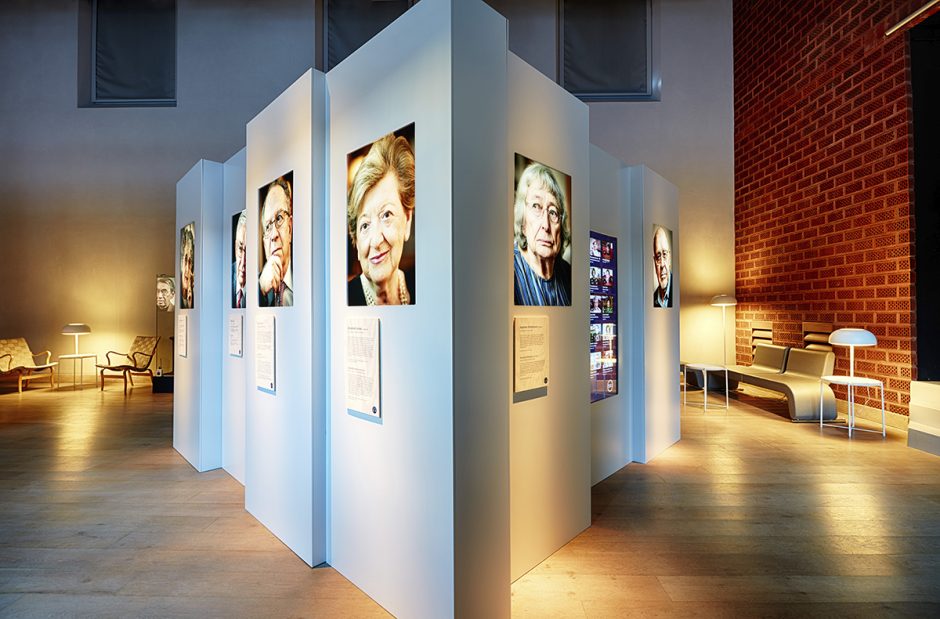 The Swedish History Museum's "Speaking Memories" exhibit. (Photo: Erik Lernestål/National Historical Museums)
Sunday, October 13, 2019
The panel, moderated by USC Shoah Foundation Finci-Viterbi Executive Director Stephen Smith, occurred in conjunction with a screening for the docuseries.
Monday, September 30, 2019
Award-Winning photographer, writer and educator Rachael Cerrotti tells the extraordinary story of her grandmother's escape from the Nazis by retracing her grandmother's steps, while living a personal journey of love and loss.
Tuesday, September 17, 2019
Portraits of Holocaust survivors appear alongside interactive testimonies in Facing Survival, a USC Fisher Museum of Art and USC Shoah Foundation collaboration open through Dec. 7.
Thursday, September 5, 2019
Challenge Winners Use 'Stronger Than Hate' Grant Awards to Promote Diversity, Equity and Inclusion in California and Pennsylvania School Communities.
Wednesday, May 15, 2019
A USC Shoah Foundation film crew is recording four new testimonies in Central Europe this week at Auschwitz, Majdanek, Treblinka, Mauthausen, the Warsaw Ghetto and other historic sites. The project to capture the 360-degree testimonies stems from a partnership with the International March of the Living program.
Monday, April 29, 2019
In "Liberation Heroes: The Last Eyewitnesses," Holocaust liberators and liberation witnesses vividly share their World War II experiences in their own words. The film draws parallels between the past and the present.
Thursday, April 25, 2019
On April 25, 2019, the USC Shoah Foundation Center for Advanced Genocide Research celebrated the fifth anniversary of its founding.
Wednesday, April 10, 2019
On the day of the IWalk launch, 35 teachers in Philadelphia were trained on how to use the new app, which guides users through a plaza that memorializes the Holocaust.
Thursday, March 7, 2019
Roughly 1,000 audio-only interviews recorded by students of UCLA history Professor Richard Hovannisian were entrusted to USC Shoah Foundation. This week, Hovannisian and three of his former students gave a talk about how they amassed such a large repository of memory at so crucial a time, "when denialism was huge."
Thursday, January 24, 2019
Dimensions in Testimony highlights "Speaking Memories," an exhibit by the organization Jewish Culture in Sweden featuring the voices and stories of Holocaust survivors. The Swedish History Museum also launched access to the 55,000 testimonies in the Institute's Visual History Archive.