Dear Friends,
I'm thrilled to report that our longtime plans to move USC Shoah Foundation to the fourth floor of USC's Thomas and Dorothy Leavey Library have become reality. Although a few finishing touches remain, we are now at work in our new space.
With leadership gifts from longtime supporters George and Irina Schaeffer and Board of Councilor member Melinda Goldrich and her sister Andrea Cayton, along with the Goldrich Family Foundation, the new location considerably expands the Institute's space and technological capabilities.
Designed by award-winning architect Hagy Belzberg, whose work includes the Los Angeles Museum of the Holocaust, the fourth-floor building project doubles the Institute's current operating space and allows for total collaboration between all teams within the Institute.
Our new headquarters incorporate the Institute's programs into a single space with global reach – a museum of living history that also functions as a vital center for research, education and communication to build human understanding.
From this powerful new hub, we are able to engage a broader global audience and create a vibrant workplace in order to be a dynamic, visible destination where the team and our visitors can come together.
With natural light flowing in and surrounded by views of the campus and Los Angeles, the new spaces features an open layout fostering both formal and informal collaborations among staffers, scholars, and researchers, enabling people to appreciate – and join in – the range of activity.
The improved infrastructure is expandable to keep pace with future additions and technologies.
In addition to offices, the expanded facilities include a new studio for recording testimonies; multimedia classrooms and study labs; conference suites; a lounge; a centrally located kitchen; and, of course, the Institute's powerful exhibits. A visitor's area employs holographic, interactive content and visuals to support the important meetings that occur there.
As a gateway to it all, a welcoming lobby will beckon visitors to the wealth of engaging resources offered beyond it, generously supported by an endowment from Board of Councilors member Mickey Shapiro. We expect to have the lobby exhibits installed this summer.
Of course, the heart of the Institute will always be those who work, visit and learn here. The current capacity of 40 people will more than double to enable up to 100 to work and study simultaneously. This is all accomplished while maintaining the library's space for USC students.
The last few improvements are tentatively set for completion in time for the Institute's 25th anniversary in 2019. Funds are still being raised, and naming opportunities remain available.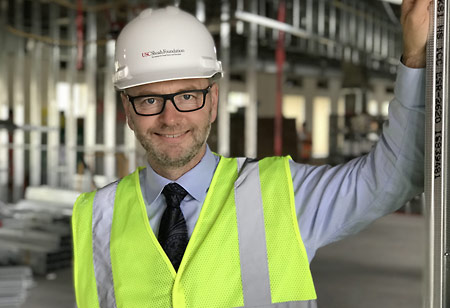 Stephen Smith, PhD
Executive Director
Andrew J. and Erna Finci Viterbi Endowed Chair
UNESCO Chair on Genocide Education
Adjunct Professor of Religion