Stephen Smith Reflects on Auschwitz: The Past is Present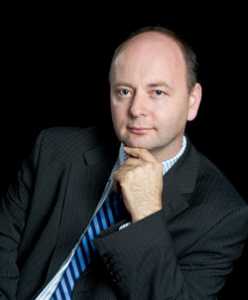 Executive Director Stephen Smith discusses the impact of Auschwitz: The Past is Present on USC Shoah Foundation
One of the biggest takeaways of Auschwitz: The Past is Present for me was the film One Day in Auschwitz. It aired in over 200 territories in the world, in 40-plus languages, and it's been airing on Showtime throughout the year. Making that documentary has meant that more people learned about Auschwitz and what happened there and also made a connection back to the Institute. The voice of the witnesses is still very much a priority.
I think Auschwitz: The Past is Present helped us to define ourselves in a global context. The stories that we have can speak to audiences in very widely flung geographic areas, accessing different types of channels, be it TV, a documentary, a news item, a Twitter feed.
I think it's also confirmed the link between content we produce in the field and what it means for education. The ability to bring back what we experienced in Poland and convey that to high school audiences through Discovery Education was tremendous. The fact that we trended on Twitter momentarily during the Auschwitz: The Past is Present Virtual Experience was extremely exciting. I'm very pleased with the fact that we were there in order to respect and honor the survivors and victims of Auschwitz but there was something that came back that was highly communicable to a younger audience. It was very powerful.
For me the mission program wasn't just about donors, it was about influence. As complex as it is to organize groups of philanthropists and survivors, when they do align, they have high impact. I think the group itself that we were with had a lot of depth and dignity and commitment and that was very meaningful.
Our institutional relationships strengthened, working with the Auschwitz-Birkenau State Museum and World Jewish Congress that have huge reach. The film Auschwitz that Steven Spielberg produced and James Moll directed had close to 10 million views and will be a permanent film at the Auschwitz-Birkenau State Museum. It's great to have that legacy.
Looking back, Roman Kent's speech at the commemoration was the best speech that I have heard about the Holocaust given by a survivor. Roman is a quiet, very dignified individual. I have seen him working and speaking at many conferences and foundations, and somebody with that much experience obviously has a lot to share. But it completely took me by surprise how eloquent he was in that moment. He was the right spokesperson. It was a humble, meaningful speech.
But one of the most memorable moments was walking through the snow in darkness at Auschwitz-Birkenau after the official commemoration. Normally visitors are not ever in that place in the dark; it was the first time I've been there in darkness. With the lights on and the snow – I've been there in snow but not when it was snowing – there were so many elements that were so evocative. It was both beautiful and hideous at the same time, that the snow was covering the hideous nature of this place. To be there together with Dario Gabbai, one of the last survivors of the Sonderkommando, by the gas chamber, was a really unforgettable moment.