Meet the Departments: Executive Office
Fri, 02/26/2016 - 5:00pm
This is the second story in the "Meet the Departments" series. Each story will focus on a different department at USC Shoah Foundation: outlining its responsibilities, introducing its staff and describing how its work fits into the overall mission of the Institute.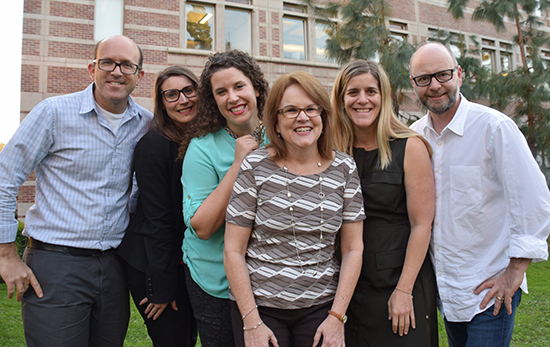 Ann Eling is among the newest members of the 7-person team that makes up USC Shoah Foundation's Executive Office, and she already connects her day-to-day efforts to the big-picture impact.
"My job is meaningful because I enjoy knowing that in some way I am helping USC Shoah Foundation teach tolerance to the world and help people remember those who died or suffered due to genocide," she said.
Ann joined the team in November, moving to Los Angeles from Indiana, where she had been supporting executive directors of multinational corporations for 20+ years. She brings all that expertise – and her distinctive brand of mid-Western hospitality – to her role as Executive Assistant to Dr. Stephen Smith, who is Executive Director of the Institute. Stephen is the Institute's chief spokesperson, fundraiser, and program developer, and also serves the staff as historical expert and thought partner.
Even newer to the team is Renita Thomas-Franklin, who joined the staff in February to support the executive office with finance, travel, and other administration. Renita adds her own charm and hospitality to the mix, drawing on years of administrative service and support roles, not to mention a successful acting career (she'll make you laugh playing the mom in "The Mystery of Swaggy P, featuring USC basketball alumni Nick Young).
Renita said her job is the first one she's had where she doesn't dread Mondays. The office feels like the United Nations to her since she gets to meet the Institute's visitors from all over the world and the environment is so diverse and intellectually stimulating.
"This feels like a collaborative mission to save humanity"
"To me this doesn't feel like a "job," but more like a collaborative "mission" to save humanity," she said. "It's not profit driven but purpose and passion driven to educate and hopefully eradicate the hate that caused so much pain and destruction in the world."
After several years managing productions at Sony, Lauren Carter joined the executive office to support the Institute's media productions. Lauren facilitates a variety of projects, from new collections of testimony to the development of documentary films and compilations, such as our annual series on Comcast XFINITY On-Demand and presentation reels for conferences, board meetings, and other events.
Lauren characterized the executive office as the "nerve center" of the Institute. "The executive office collaborates with each and every department, from creating and supporting communications to meeting with friends of the Institute, providing resources, or running board meetings and retreats," Lauren said. "When things are running well here, projects tend to run smoothly Institute-wide."
Keeping things running smoothly sums up the multifaceted work of Managing Director Kim Simon, who started working on the mission when the organization was founded in 1994. Kim works hand-in-hand with Stephen and with the senior managers throughout the week to plan and operate programs, share information and troubleshoot, and delivery strategy and tactics to propel the work forward. "What a privilege to work with the immediate team in the executive office to serve our internal and external stakeholders, all the while working to deliver on such a meaningful mission," Kim said. "We are constantly learning!"
Now with 6 months on staff under her belt, Dr. Lara Bradshaw is fast becoming a seasoned member of the executive office team. She earned her doctorate in critical studies as USC and provides academic perspective, thought-partnership and writing leadership to the team and to all of its services. She works alongside program administrator Aaron Zarrow, who is responsible for developing written and multimedia content for the executive office and in support of the departments and Advancement teams. Together Aaron and Lara help "tell the story" of the Institute to our various audiences, developing talking points, writing speeches, and collaborating on white papers, proposals, reports and other content-rich materials.
The executive office is a fast-paced environment, with staff working often under tight deadlines on projects that touch every other department. "We get a lot done while also having fun," Aaron said.
"I love working with this team of professionals," concluded Stephen.
To see some of the impact of this service-leadership team, check out recent stories on the Today show and in the Hollywood Reporter, plus blogs for the Institute, the Huffington Post and The Times of Israel.
Like this article? Get our e-newsletter.
Be the first to learn about new articles and personal stories like the one you've just read.