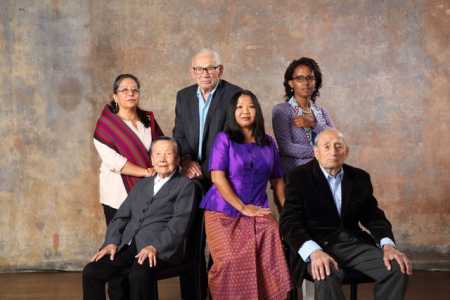 April was the month when Ottoman Turks rounded up and arrested Armenian intellectuals in 1915 – the first step in the Armenian Genocide.
It was the month when the Nazis implemented several measures restricting the rights of Jews in Germany in 1933.
In April of 1975, the Khmer Rouge captured Phnom Penh in Cambodia and began its massacre of over 1 million people over four years.
And in April of 1994, an airplane carrying the president of Rwanda was shot down by a surface-to-air missile as it was about to land in Kigali airport – igniting the Genocide against the Tutsi in Rwanda.
And so it is fitting that April is internationally recognized as the month to commemorate victims of genocide. USC Shoah Foundation is marking this year's Genocide Awareness Month with several important initiatives.
Eighteen voices. Nine cities. One archive.
Last week, the Institute launched a Genocide Awareness Month campaign on Instagram titled "Eighteen voices. Nine cities. One archive." The interactive map showcases nine cities around the world that are connected – across time and experiences – to the Visual History Archive.
Each day features a different city and several clips of testimonies connected to them in ways that could be surprising.
The city of Copenhagen, for instance, paired a clip from Holocaust survivor Victor Borge – the legendary pianist and comedian known by adoring fans as "the Clown Prince of Denmark" – with Niddal El-Jabri, a Muslim man who in 2015 organized a peace ring around a synagogue in Copenhagen that a month before had been the location of a deadly terrorist attack.
The city of Los Angeles paired the testimony of an Armenian Genocide survivor relating the ever-present pain of his memories with that of a Cambodian Genocide survivor who discusses the guilt she carries for living when her siblings died.
The exhibit – which forms an impressionistic, square-shaped map of the world when complete – demonstrates how no corner of the world is immune to the dangers of hatred, but also underscores the hope and resilience of humanity.
Commemorating the 1994 Genocide Against the Tutsi in Rwanda
April 7 marks a gruesome milestone for the country of Rwanda. It is the day that Hutu militias began killing their Tutsi neighbors at the behest of government propaganda. During the roughly 100 days of violence, nearly 1 million Tutsi Rwandans would be slain.
Beginning April 7, USC Shoah Foundation will launch another social media initiative. Using Twitter, the Institute will showcase a quote from a different survivor or witness of the genocide every day for 100 days. The length of the Twitter campaign is meant to reflect the length of the atrocities.
In addition, USC Shoah Foundation this week is sending a delegation to Rwanda to participate in several of the commemorative events happening in the country. Called Kwibuka25, the 25th Commemoration of the Genocide against the Tutsi will include events at the Kigali Genocide Memorial, such as the laying of a wreath and lighting a flame of remembrance.