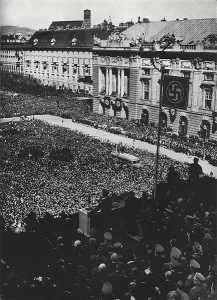 In 1938, Nazi Germany forcibly annexed Austria. Yet many Austrians reacted with enthusiasm and greeted Nazi troops with parades.
USC Shoah Foundation's education team has partnered with a Holocaust education organization in Austria to develop a new IWitness activity on this historical event, known as the "Anschluss" -- the German word for "joining" in reference to the political union between the countries.
"Der 'Anschluss' 1938" was created by erinnern.at, an educational NGO in Austria, with help from USC Shoah Foundation. It's the first IWitness activity to involve erinnern.at, and the third activity in German.
"The Anschluss was a key event in the history of the Holocaust in Austria," said  Andrea Szőnyi, USC Shoah Foundation's head of programs for international education in Hungary. "So it was very reasonable that an Austrian organization like erinnern.at develop the first activity on a topic that talks to their local audience."
Immediately after the annexation, tens of thousands of Austrian Jews were murdered in the Holocaust; many more fled the country. Austria's Jewish population – once close to 200,000 – today stands at 10,000.
The memories of 1,300 Austrian-born Jewish survivors are preserved in the Institute's Visual History Archive. Several of them are highlighted in the new IWitness activity, which encourages students to engage with primary sources including testimony describing the enthusiasm and hysteria around the Anschluss that preceded the mass transports of Jewish people to the Dachau concentration camp, the looting of Jewish property and the onset of the pogroms.
"As the issue of the 'annexation' has been on everyone's lips in Austria since 2018 due to the 80th anniversary of said events, we wanted to create an opportunity for educators to include the topic into their teaching," said Robert Obermair, who developed the activity for erinnern.at. "IWitness has given us the chance to do so by taking into account the experiences survivors had in Austria in 1938 and thus offer students a very important perspective on the events surrounding the establishment of National Socialist rule in Austria."
The activity enables students to hear from survivors Helene Neuhaus, Sophie Haber, Rudolf Gelbard and Antonia Bruha. It further asks students to question how it was possible that so many Austrians remained in support of their National Socialist government in spite of its discrimination and persecution of their neighbors.
After interacting with the testimony clips, students will reflect on why it is important that survivors share their memories of such events.
Szőnyi says the partnership with erinnern.at is instrumental to USC Shoah Foundation's efforts to globalize education about hatred and intolerance.
"USC Shoah Foundation works with many partners around the globe," Szőnyi said. "Austria is an important location to us, so it is crucial that we have a presence in the country and partner with such a central organization."