Two students in New York state have risen through the ranks of the National History Day Competition with a project that highlights one testimony from USC Shoah Foundation's Visual History Archive.

After being selected as finalists from their high school early this year, freshmen Lily Jebejian and Alice Vranka of Bronxville High School north of New York City placed second in the Lower Hudson Regional Competition in March. They'll go on to compete in the New York State Competition in late April, after fine-tuning their display commemorating one segment of the American response to the Armenian Genocide.

"As we dug deeper into the Armenian Genocide, we found a hidden triumph in the story of Near East Relief and the many unsung heroes of the genocide," Jebejian and Vranka said in a statement to USC Shoah Foundation.

Addressing this year's National History Day theme of "triumph and tragedy in history," the girls looked into the work of American charity Near East Relief, which sent humanitarian aid and raised millions of dollars to help those affected by the Armenian Genocide. The organization set up refugee camps, clinics and hospitals to attend to those displaced by the genocide, and is credited with having cared for 132,000 Armenian orphans from Yerevan, Constantinople, Beirut, Damascus and Jerusalem, among other places in the Near East, a region that includes western Asia, Turkey and Egypt.

"We felt that the triumph of the work of Near East Relief during the horrific tragedy needed to be shared in this year's contest," the girls said.

Part of their project, which displays a sample of the typical meal eaten by an orphan in an Near East Relief orphanage, features a clip of testimony from Arpine Terlemezian, who worked as the director of an orphanage in Kirovakan (now Vanadzor) shortly after Armenia was established in 1918. Terlemezian's story is preserved in USC Shoah Foundation's Visual History Archive.
"Arpine Terlemezian's testimony offered a story of personal triumph and tragedy for our project," the girls said. "While she witnessed the horrors of the genocide in her work at an Near East Relief orphanage, she helped the orphans learn skills that would benefit them for their entire lives."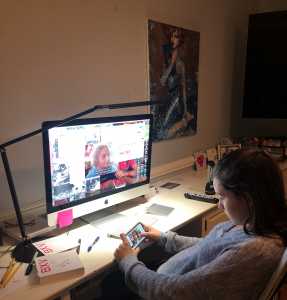 They add that she also found love while working at the orphanage. Dajad Terlemezian was a young war hero and fellow employee of Near East Relief.

"Dajad came to the orphanage every day," she said in her testimony, which was recorded by the late documentary filmmaker J. Michael Hagopian in the early 1980s. (Hagopian entrusted all of his 300-plus Armenian Genocide interviews to USC Shoah Foundation in 2013.) "He captivated me. So, we got married."

The girls first heard of the Visual History Archive during an interview with the Chairman Emeritus of the Near East Foundation, Shant Mardirossian. They immediately started scouring the archive for a story to set their project apart.

USC Shoah Foundation Education and Outreach Specialist Sedda Antekelian says she's proud that Jebejian and Vranka have chosen to include testimony from the Archive.

"Testimony is a primary source," Antekelian said. "It provides value to the historical record and humanizes the experience of tragedy and resilience."

Antekelian also credited the students for sharing the voice of Terlemezian, who is "a great example of an Armenian survivor who actively worked for the survival of thousands of Armenian orphans."

Both girls say they are excited to present their project in the next stage of the competition. They say their family connection to the genocide has motivated all of their work. In fact, both are currently in Armenia, visiting Near East Relief orphanages like the St. Arsenije Church in the Kazachi Post in Gyumri, Armenia.

"Luckily, our ancestors escaped the persecution of the Ottoman Empire and were able to thrive in America," they said. "We are so passionate about researching this topic because of our personal connections, and we have discovered so much about our family history through the research process. We hope to share the story of the Armenian Genocide and Near East Relief with as many people as possible, so that our history will not be lost."