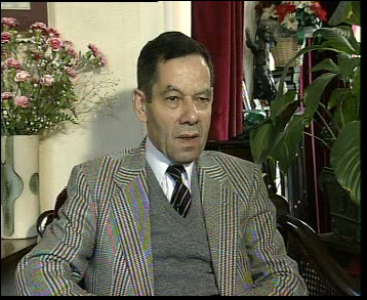 USC Shoah Foundation mourns the recent passing of Rudi Oppenheimer, a Holocaust survivor who, along with his two siblings, managed to stay alive at the Bergen-Belsen concentration camp in Germany, where they endured starvation, lice infection, typhus and the death of their parents.
Rudi, who was 87, was preceded in death by his older brother, Paul, who died in 2007, and younger sister, Eve, who died in 2017.
Known as "The Three Oppies," the siblings spent several decades sharing their story with students in the UK and abroad.
"The passing of the last of the 'Three Oppies' has deep significance," said USC Shoah Foundation Finci-Viterbi Executive Director Stephen Smith. "They dedicated their lives to telling the story of the Holocaust. Each of them gave a testimony to USC Shoah Foundation when they were in their prime, just twenty years ago. Paul and Rudi had a healthy competition to see who could speak to more schools.  Both were engineers and wanted every detail to be correct.  And now they are gone."
After the Holocaust, Rudi – who died on May 13 – worked as a computer scientist for most of his career at Shell oil company. After retirement he moved to Britain. He gave his testimony to USC Shoah Foundation in 1997. In a mild manner and English accent, Rudi speaks humbly of himself and generously of his beloved siblings. 
The Oppenheimers' story begins idyllically in Berlin, where Rudi and Paul were born and spent their toddler years in a secular, middle-class family that had assimilated to German life. In his testimony, Rudi recounted how, as a child, he used to love marching bands, so much so that he would walk behind them when they passed through his street.
"Until my mother told me that those people who are marching there in the brown uniforms with their swastikas did not like the Jews," he said. "I suppose reluctantly, I had to stop."
In 1936, sensing trouble, the family moved to Holland – perhaps hoping the country would adopt a neutral stance in the event of a war, as it had during World War I. The father, Johannes, a banker, landed a job in Amsterdam. The family lived comfortably there until May of 1940, when the Germans invaded.
Within four months, Nuremberg Laws came down. The Oppenheimers and other Jews were told to vacate coastal areas so the Germans could set up a line of defense. The family moved into a holiday cottage in the countryside for a few weeks before finding a more permanent location.
"Time was so short that we could not even say goodbye to our school friends," Rudi said in his five-hour interview with USC Shoah Foundation. "We were very upset."
The Oppenheimers suddenly found themselves prohibited from using public swimming pools and cafes. They were made to wear the yellow star. Johannes lost his job at the bank. He found employment on a Jewish council that did administrative work at the behest of the Germans.
Soon the deportations began – the Germans called them "resettlements." Jews were sent to a Dutch village called Westerbork, which the Nazis, unbeknown to those yet to be expelled, had converted into a transit camp from where people were sent to their deaths at Auschwitz or Sobibor.
"You could see through it perhaps, if you wanted to," Rudi said, "but people didn't want to see through it."
When it came time for the Oppenheimers to go to Westerbork, they were spared from certain oblivion by a fluke: 7-year-old Eve was a British citizen, as she'd been born in London in 1936, where the family had stopped during the move to Holland.
The Germans needed British prisoners on hand to exchange for German prisoners. Instead of being shipped to Auschwitz or Sobibor, the family was sent to Bergen-Belsen, where they occupied a privileged section of the camp for "Exchange Jews."
The living conditions in their barracks were far from comfortable. Although they could wear civilian clothes (with yellow stars affixed) instead of prison garb, they lived in cramped conditions and survived on turnip soup and bread.
In January of 1945, their mother, Friederike, was stricken with typhus. Every night for several weeks, 13-year-old Rudi, 16-year-old Paul and 43-year-old Johannes visited her at her bedside. (The youngest, Eve, was being looked after by a family at the camp.) One day, father and sons arrived at her bedside to find another person where Friederike used to be.
"And that's how we knew that she'd gone," Rudi says in his testimony, his voice breaking.
She wasn't quite 43.
Several weeks later, their father also contracted typhus. The children learned of his death in the same cruel manner: One day he was no longer in the hospital bed. 
Liberation was less than a month away.
In early April, as the Allies closed in on the Germans, the three Oppenheimer siblings were among the roughly 600 "Exchange Jews" to be loaded onto a train by the Germans, who wanted to use them as hostages. During the 15-mile journey north, the train traveled at night and hid from Allied attacks during the day. When it stopped – either because the train was hiding or under attack – prisoners removed the bodies of people who'd died of typhus and walked into the nearby villages to find food. (They would remove their yellow stars to better win the favor of the villagers.)
Rudi scavenged for food while Paul guarded their belongings in the train. Eve, meanwhile, was in another car with the family that was watching over her.
The train passed Berlin, where Rudi and Paul had lived as younger children about decade before. Now it was in ruins.
One morning, the passengers awoke to find that the SS guards had vanished.
"There were people on horseback who looked very strange to me," Rudi said. "We recognized right away: those must be Russians."
They were liberated. But the experience was initially confusing and frightening, not joyful.
"At the beginning there, they were shooting just about everybody in sight," Rudi said. "They were very uncontrolled."
 Once the Russians understood who the prisoners were, they protected them.
"That was liberation for us," Rudi said. "It was completely different from what we thought it would be."
After the war, the siblings returned to Holland. Eve soon after went to live with their uncle in London. Rudi and Paul followed after their requests for visas were granted.
Eve went to work in their uncle's apparel business. Paul became an engineer in the motor industry and had three children with his wife, Corinne Orme. Rudi also studied engineering before embarking on his career at Shell.
"It sounds crazy, maybe," Rudi said in his testimony, "but I like going back (to Bergen-Belsen). But the main reason I like going back -- I feel that I'm going to the cemetery of my parents."