George and Irina Schaeffer

George Schaeffer is the founder of OPI Products, Inc., one of the world's leading nail care companies. The son of Holocaust survivors, he immigrated to New York from Hungary with his family in 1956 and began working in the family garment business after graduating from City College of New York.
George and his wife, Irina, are longtime supporters of the Institute. With their generous capital donation, they are enabling the Institute to not only upgrade its workspace at Leavey Library, but also expand its influence around the world.
"Leavey Library is the nerve center for expanding research and education programs, so we also wanted to help increase the space and capabilities here," George said. "We are dedicated to doing everything we can to help USC Shoah Foundation promote empathy and tolerance."
After moving to Los Angeles in 1981, George purchased the dental care company Odontorium Products, Inc.  Among his regular customers was a group of manicurists who bought dental porcelain to make nail products. This inspired him to create his own acrylic-nail system, which his team sold door-to-door at salons. Eventually, he transformed the enterprise into a nail care business.
Known for the catchy names of its more than 400 shades – Alpine Snow, Blue My Mind, Big Apple Red – the OPI product fused the beauty and entertainment industries by collaborating with celebrities such as Justin Bieber, Selena Gomez and Serena Williams.
George sold the company in 2010, and is now the President and CEO of Aloxxi hair products.
His philanthropic organization, the George W. Schaeffer Family Foundation, supports numerous causes, including health and children's education.
In 2013, George was awarded the Senate Medal, the most prestigious award offered by Eötvös Loránd University in Hungary, after his foundation donated the funds to cover the university's subscription to the Institute's Visual History Archive for three years.  
George hopes that USC Shoah Foundation will help to educate future generations.
"It will always remind us that we live in a fragile society, and we cannot afford to forget that a world that closes its eyes to hatred and bigotry is a world that has no future," he said.
He also hopes USC Shoah Foundation's legacy will resonate with a famous Martin Niemoller quote about German intellectuals' failure to act during the rise of Nazism:
"First they came for the communists, and I didn't speak out because I wasn't a communist.
Then they came for the socialists, and I didn't speak out because I wasn't a socialist.
Then they came for the trade unionists, and I didn't speak out because I wasn't a trade unionist.
Then they came for me, and there was no one left to speak for me."
Melinda Goldrich and Andrea Cayton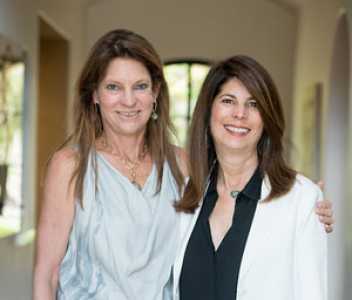 The Holocaust has always been personal to Melinda Goldrich, the daughter of a survivor. But growing up she remembers how impersonal – and inadequate – Holocaust education used to be.
It mostly consisted of showing black and white photographs and newsreels while emphasizing the number of people who were killed. But now, with K-12 educational programs like USC Shoah Foundation's IWitness, students can get a much more personal understanding of how genocide affects real people, even when there are no survivors to meet in person.
"Not everybody's going to have a Holocaust survivor in their family or in their community to relate it to," she said. "We need organizations like USC Shoah Foundation to provide that for everybody else."
Along with her sister Andrea Cayton/Goldrich Family Foundation, the philanthropist from Aspen, Colo. has given USC Shoah Foundation a generous donation that will enable the Institute to not only relocate to a bigger facility, but scale up its education and research programs.
"By becoming lead donors for USC Shoah Foundation's new site, our family is memorializing our father and grandfather Jona Goldrich," Melinda said. "Holocaust education and the important work of USC Shoah Foundation was his mission and is now ours."
After the Nazis invaded his native Poland, Jona Goldrich and his younger brother Avram fled at the behest of his father, who sewed diamonds into their clothing and sent them away with a guide. Four days of walking through forested mountains brought the 14- and 12-year-old brothers to the Hungarian border. They crossed into the small town of Munkacs, where relatives took them in and sold the diamonds to give the boys some spending money.
"It felt bad to be so dependent on other people," Jona said in his USC Shoah Foundation testimony, which lives in the Visual History Archive.
Jona and Avram soon boarded a train for Budapest, where it was a little easier to hide from police.
Living on their wits, and aided by the generosity of various synagogues, the boys immigrated to Palestine, where they found refuge and went to school. Their other brother and parents had planned to emigrate as well, but were captured and murdered in concentration camps.
In the 1950s, Jona moved to Los Angeles and became a successful real estate developer. He later founded the Goldrich Family Foundation for philanthropy. He died in 2016 at age 88.
Through the years, Melinda has continued her family's tradition of philanthropy.
"I'm realizing how little time is left to get firsthand information from survivors," she said. "From my experiences in traveling, you find out there are people without knowledge or understanding of the Holocaust, whether they're educated people or not."