Glance at one of David Kassan's artworks depicting Holocaust survivors Samuel Goldofsky or Elsa Ross and you might assume it's a photograph. But look closer and the piece comes to life as an intricately detailed and stunningly realistic oil painting.
Kassan and his two partners, journalist Dan Maccarone and filmmaker Chloe Lee, have formed The Edut Project to capture and tell Holocaust survivors' stories through Kassan's paintings as well as written profiles and short films. So far, Kassan has painted four survivors – Goldofksy, Ross, and twin sisters Roslyn Goldofksy and Bella Sztul – and all except for Sztul recorded their testimonies for the Visual History Archive.
The Edut Project's goal is to create a website that will display the paintings as well as the written and multimedia aspects of each survivor's story, and also open a multimedia gallery exhibition. They hope to raise $450,000 to fund 17 more paintings and accompanying elements, plus the exhibition and a book.
Kassan developed his realist painting style after graduating with a BFA from Syracuse University, learning from masters of realism including Harvey Dinnerstein and Burton Silverman. Kassan said he started out painting his family members and friends – not for commissions, but simply as a way to get to know his subjects better. He paints from life, but also from photographs if his subjects aren't able to pose for a long time.
"Painting was an excuse to get to know people's stories and spend time with them," Kassan said. "You're learning about someone through their face."
It has taken him anywhere from two months to two years to finish his life-size paintings, Kassan said.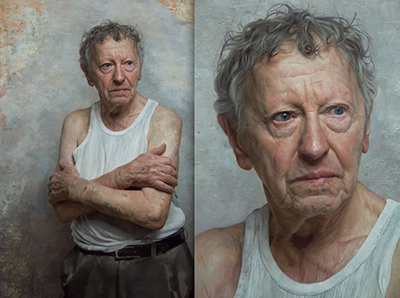 Kassan first got the idea to paint Holocaust survivors from a student of his while he was teaching art in Tel Aviv. She mentioned that her mother-in-law was a Holocaust survivor, and Kassan immediately wanted to paint her. Though the woman ultimately declined to be painted, the idea to paint Holocaust survivors was planted.
Kassan had personal reasons to focus on Holocaust survivors as well. His grandfather escaped ethnic cleansing in Romania, and through painting other survivors, Kassan feels he is meeting him and learning more about what he went through.
Kassan, Maccarone and Lee have so far found their subjects through word of mouth but are hoping to find more who would like to participate.
While many survivors have already told their stories on video (as in the Visual History Archive) or in memoirs, Kassan believes painting offers viewers a different kind of connection to the survivors, one that puts a personal face to the sometimes abstract idea of the Holocaust.
"It's handmade, raw, life size and it speaks what the survivor went through, and the hard work in their lives after the atrocities," he said. "We wear our lives on our faces and our skin. [The painting] shows the pathos of the sitter and what they're going through. It forms a connection with the audience."
"It's handmade, raw, life size and it speaks what the survivor went through, and the hard work in their lives after the atrocities"