Stronger Than Hate
Donate
Stronger Than Hate offers actionable responses to the rising crises of hate today.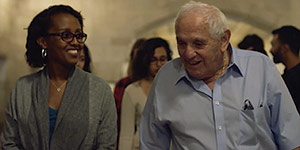 Community at Large
Examine current events and issues relevant to the Institute's mission. These focal points include such topics as antisemitism and discrimination.
Every day, teachers, parents and community leaders confront the seeds of hate.
They need support, resources, training and tools to provide values-based education and leadership to enable students to learn to recognize and counter antisemitism, racism, xenophobia, and other hatreds, rather than ignore or even harbor them.
Stronger Than Hate delivers USC Shoah Foundation's proven educational strategies and resources that enable hateful ideologies to be deconstructed and countered, intervening in the cycle that leads from hate to violence. 
"We cannot expect our students to learn the lessons of history or be responsible participants in civil society if we do not adequately prepare our educators to effectively teach these critical topics in the classroom. Now more than ever, teachers need comprehensive educational resources that will inform, engage and inspire the next generation to actively reject hatred in all its forms."
--Dr. Claudia Wiedeman, Director of Education