Stronger than Hate @ USC
As our community confronts a rising tide of antisemitism, anti-Black and anti-Asian racism and other forms of identity based hatred, USC Shoah Foundation and USC Museums have come together to form the USC Stronger than Hate initiative. The initiative is a collective program involving staff and faculty, schools and centers, and of course our students. As the streets, social media and physical spaces fill with demands for action and change, our response is to create a robust, inclusive cultural and academic program that represents our diverse community, providing practical educational tools and resources, a new way to map and make visible things that divide us and robust resources for connection, outreach and support. Being and becoming stronger than hate means building alliances across difference, actively countering hate and fostering a culture of antiracism. Download the PDF for more information.
The Mission: To build alliances across difference, counter hatred, and foster a culture of antiracism.
Our Values
Our values center around our community being together, being inclusive, and expanding empathy – being comfortable with each other, being curious about each other, practicing mutual respect, caring for one another, being open, being willing to listen, learn and dream together. We will act in ways that contest systems of inequity by changing practices and creating safe spaces. What we practice we become.
Stronger Than Hate Partners
Title IX • USC Arts and Humanities Initiative • USC School Cinematic Arts • Experiential and Applied Learning • USC Educational Partnerships, USC University Relations • USC Government Programs and University Relations Initiatives • USC Center for Work and Family Life • USC Hillel • ONE Archives at the USC Libraries • USC Museums • Hebrew Union College • USC Equity Research Institute • USC Campus Wellness and Crisis Intervention • USC Casden Institute • USC Campus Wellness and Crisis Intervention, Religious Life • USC Price, Safe Communities Institute • USC Arts in Action • USC Visions and Voices• USC Office of Wellbeing and Education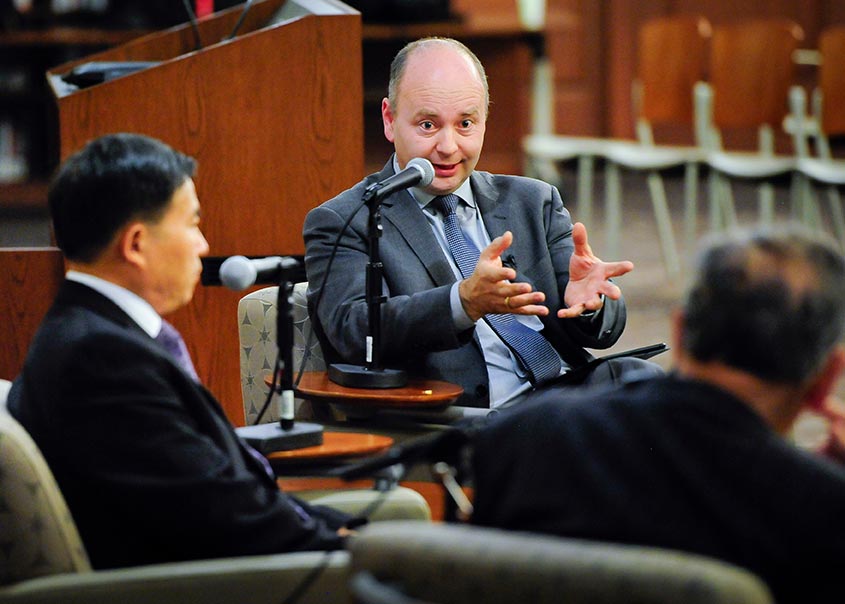 Get Informed
Practical tools, publications, courses, resources and opportunities to deepen understanding and develop empathy.
Get Active
Making connections and putting into practice being stronger than hate.
Dr. Erroll Southers
The first negative interaction with the police at the age of ten, shaped the trajectory of Erroll Southers' life and career. From that moment he knew he wanted to reform policing and change the relationship between the police and the black community from the inside out.
Southers joined the Santa Monica police department as a police officer, working gangs and other details for seven years. He was appointed to the FBI, working foreign counterintelligence, terrorism and as a member of the Bureau's SWAT Team. He served Governor Arnold Schwarzenegger's Deputy Director in the California Office of Homeland Security, Chief of Homeland Security and Intelligence for the Los Angeles World Airports Police Department (the nation's largest airport police department). And finally he served as President Barack Obama's first nominee for Assistant Secretary of the Transportation Security Administration.
Dr. Erroll G. Southers is now the Director of the Safe Communities Institute and Homegrown Violent Extremism Studies at the University of Southern California Sol Price School of Public Policy, where he is also a Professor of the Practice in National & Homeland Security. With police reform at the top of mind, experts across the country are tapping Southers' vast experience and expertise to create the change he has always sought at the local and national level - placing an emphasis on humanity above all else to restructure and rethink policing and safety.
Saturday, October 17, 2:30 PM / Program@PAM
Inside the Pink Donut Box: Stories of Cambodian Immigration
Join Phung Huynh and Mayly Tao, LA's "Donut Princess," in conversation moderated by curator and historian Erin M. Curtis as they explore the history of Cambodian immigrants in Los Angeles, the experience of overcoming refugee trauma by forging community and identity via standing up Cambodian-run donut shops.
Partner Events and Programs
The Intersection: Woke Black Folk
Scholar, activist, playwright, artist, and one of the original organizers of Black Lives Matter Funmilola Fagbamila will perform The Intersection: Woke Black Folk, her acclaimed one-woman stage play about the complexities of Black political identity and how humans navigate difference. The Intersection premiered at the Pan African Film and Arts...
October 11, 2020
Kristina Wong for Public Office: Live From Her Home!
This interactive, 65-minute comedic performance mashes up campaign rallies, church revivals, and solo theater shows to uncover the history of voting, what it means to run for local office, and the impact artists can have on democracy.…
October 22, 2020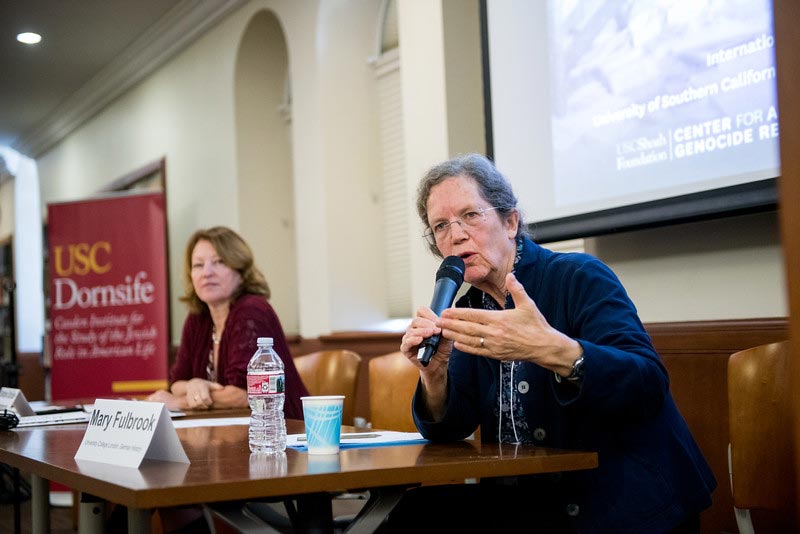 Research@USCSF
Scholar Lab on Antisemitism
Under the auspices of USC Shoah Foundation, Scholar Labs convene scholars at all levels to engage in focused inquiry on topics, issues and wicked problems. Labs are designed to provide participants with opportunities to engage with peer scholars within and outside their disciplines to bring their expertise, their particular frames of reference and methodological approaches to bear on the scholarly inquiry of important issues of our time. Supported by Albert Tapper, the Inaugural Scholar Lab in Spring 2021 will focus on antisemitism.
Exhibitions
Safer at Home
Safer at Home is an online exhibition of objects from the ONE Archives Collection at the USC Libraries organized by its curator, Alexis Bard Johnson. Safer at Home is an invitation to examine the many facets of home as well as what safety means and looks like for LGBTQ populations—both past and present.…
August 5, 2020 to July 31, 2021
We Are Here
Asian communities in Los Angeles abound with diversity. A multitude of ethnicities and nationalities from across the Asian continent are present here. Residents have sought fresh new opportunities, arriving as refugees, economic migrants, students, or professionals.…
August 5, 2020 to July 31, 2021
Workshop@USCSF
Stronger than Hate Student Leadership Program
First online session October 16th – 17th, 2020. University student leaders in this program will develop leadership capacity and skills for developing testimony-based resources and strategies. Through exploration of testimonies from USC Shoah Foundation's Visual History Archive, participants will learn to deploy testimonies of survivors from the Holocaust and other genocides as a tool to humanize the manifestations and impact of antisemitism and other forms of identity-based hate. Participants will create an actionable plan that advances equity, diversity and inclusion efforts in this dynamic, research-based, action-oriented program.