Our mission is to develop empathy, understanding and respect through testimony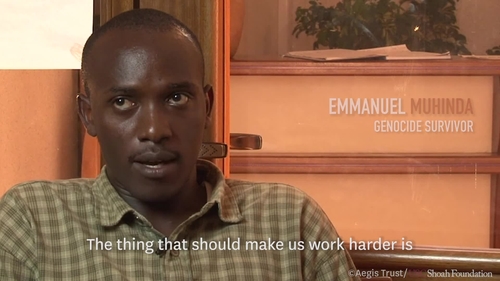 100 Days to Inspire Respect & Hope
Week 14: Stand for Hope
This week's theme focuses on standing for hope. In this clip from the Visual History Archive, survivor of the genocide against the Tutsi in Rwanda, Emmanuel Muhinda has a message for future generations.
Upcoming Events
What is Stronger Than Hate? : Lessons from Testimony, Media and Scholarship
USC Shoah Foundation Event
The Shorenstein Center on Media, Politics and Public Policy and the Institute of Politics at Harvard Kennedy School, and the USC Shoah Foundation, invite you to join Harvard President Lawrence S. Bacow and University of Southern California President Carol Folt for an event celebrating Harvard University's subscription to the USC Shoah Foundation's...
April 27, 2021
Are 'Bad Jews' Nones? Exploring the Limits of Belonging on Twitter
USC Stronger Than Hate Program
The Casden Faculty and Graduate Student Research Seminar invite you to a discussion with Jennifer Thompson, Maurice Amado Professor of Applied Jewish Ethics and Civic Engagement, California State University, Northridge…
April 28, 2021

Online Event
Stronger Than Hate : Activate Your Voice
USC Shoah Foundation Event
Join USC Shoah Foundation and NFL star Zach Banner, along with other special guests, to explore how to activate your voice and take a stand against hate in your community. This 45-minute session will feature live discussion with Zach Banner, interaction with USC Shoah Foundation's cutting-edge Dimensions in Testimony interactive biography, and...
April 29, 2021

Online Event
Creative Storytelling
Our storytelling projects are both based on and inspired by the more than 55,000 testimonies in the Institute's archive. They offer a deeper look into the emotional complexities of our survivor stories and told through the written word, video, audio and photography. They are opportunities to explore the impact that these voices have and the way in which testimony drives our understanding of conflict and grief as well as resilience, resistance and hope.
Together We Are Stronger Than Hate
Stronger Than Hate, an initiative that draws on the power of eyewitness testimony to help students and the general public recognize and counter antisemitism, racism, xenophobia and other forms of hatred.
Our 2019 Annual Report is Available
See how your support helped us make a measurable change.
You can help us make a difference
Our education programs bring the voices of survivors into classrooms, impacting future generations to build a better world based on empathy, understanding and respect.