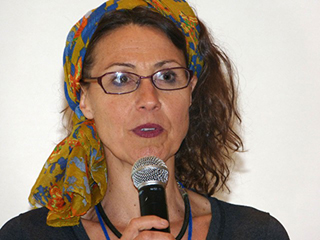 Faculty Name:
Dawn Skorczewski; Bettine Siertsema; Dienke Hondius
Institution Name:
Brandeis University; Vrije Universiteit Amsterdam
Case Overview:
For two years, in two different courses, we have asked students to use the USC Shoah Foundation archives for research projects. Our students have worked at Brandeis University and at the VU Amsterdam. Dawn Skorczewski is English professor at Brandeis University. Philosopher Bettine Siertsema and historian Dienke Hondius teach at the VU Amsterdam. Hondius also works at the Anne Frank House.
Pedagogical Approach:
We used the testimonies to give students a chance to experience holocaust survivor narratives in the first person, to see survivors tell their stories aloud, and to introduce them to oral history as testimonial. We wanted them to see historical research as a primary source encounter and to view the holocaust as something close to them rather than remotely located in a printed book or children's story. We also used video testimonies in our classrooms and the students read written testimonies from diaries and letters to novels and memoirs.
VHA Use:
We asked our Dutch and American students to access the archive online and at the Jewish Museum in Amsterdam to study aspects of the holocaust in Holland and other countries. To enable collaboration their first interview had to be one of the 34 interviews that contained 'Amsterdam' as location and are available online, a different one for each team. The Dutch and American student made a description together, with a brief summary of the wartime experiences, a timeline and/or map, revealing quotes, and an analysis of the non-verbal communication in the interview. Then every student had to choose two more interviews, the Brandeis students online one, and the VU students two of the collection at the Jewish Heritage Museum in Amsterdam. These four additional testimonies should be comparable in at least one relevant aspect, e.g. age and gender, or hiding experience, or location. Ideally every paper would thus contain material from 5 testimonies, leading to some sort of international comparison.
Working in teams (or sometimes alone because the numbers of students were not equal), they have studied topics such as: Hiding Places, Hiding decisions, Abuse in hiding, Escape hatches, Aid giving, Abortion decisions, Infanticide, Empathic connections, Emigration to Shanghai, Flight to other countries, Camp spirituality, Poetry in Camps, Singing in Camps, Cookbooks, Change of religion during or after the war, Return, Post-war trauma, the Interviewer's Role, and the Structure of the USC Interview Format.
In the second year of our experiment a new group of students have made a google map of hiding places in Amsterdam during the war and made many short clips of testimonies that they presented to each other. This second year the two groups were different: one, like the first year, consisted of Bachelor History students, the other group were international Master students of 'American culture and literature' at VU University. Most students worked in teams of two, but these teams were within the same group, because of the different levels.
Concluding Observations:
We were very happy with the assignments and presentations, and even had a mini-conference in Amsterdam last year at which students presented their work. In their preface or afterword most students expressed their appreciation of this acquaintance of the testimonies, a medium that was new to most of them. Quite a few of the Dutch students decided to using the testimonies for their Bachelor thesis.
The most important challenge is that we have many students studying Dutch testimonies and not enough online access to them to make the research comprehensive. If only they could access more of the archive, their research would be much more interesting and responsible. Another problem was the dissimilarity in the time schedule of the American and Dutch universities. Sometimes the cultural difference showed itself, e.g. in the moral judgments that Dutch students turned out to be more adverse to (or cautious with) than some American students.
One of the most interesting aspects of the assignment is the way in which students work together, making little films, to show what they have learned from their research. Their mini films are instructive and entertaining, and they offer ways of interpreting the archive that none of the teachers had imagined.
We intend to continue this project in Spring 2015 in a course entitled Anne Frank: International Perspectives. Brandeis students will watch testimonies in the final phase of the course, working with VU Amsterdam students to construct a post-Anne Frank project.