Wednesday, August 3, 2016 -

4:00pm

to

5:00pm
USC Shoah Foundation's educational platform, IWitness continues hosting free webinars for educators throughout 2016. These webinars aim to provide a more in-depth and interactive approach to learning how to teach with testimony.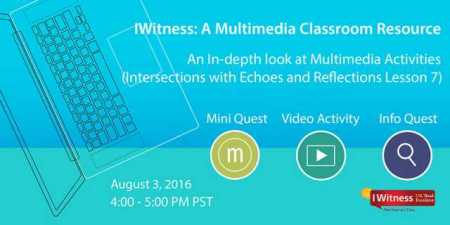 Join IWitness and our Holocaust education resource Echoes and Reflection for an Enhanced Learning Opportunity Webinar Wednesday August 3, 2016 . In this session, participants will engage in deeper exploration of testimony-based multimedia activities and resources in IWitness–the educational website integrated with Echoes and Reflections. IWitness provides educators with easily accessible resources that complements Lesson 7: Rescuers and Non-Jewish Resistance in the Teacher's Resource Guide.
Questions? Email iwitness@usc.edu
Tweet: @USCIWitness
Upcoming Professional Development Webinars 2016
Date

Webinar

Registration

August 3

4:00-5:00 PM PDT

IWitness: A Multimedia Classroom Resource-An In-depth look at Multimedia Activities (Intersections with Echoes and Reflections Lesson 7)

August 18

4:00-5:00 PM PDT

Teaching with Testimony: IWitness Virtual Class Management

September 22

4:00-5:00 PM PDT

Teaching with Testimony: Pathways to IWitness

October 6

4:00-5:00 PM PST

IWitness: A Multimedia Classroom Resource-An In-depth look at Multimedia Activities (Intersections with Echoes and Reflections Lesson 6 Jewish Resistance)

October 20

4:00-5:00 PM PST

Teaching with Testimony: Kristallnacht

November 2

4:00-5:00 PM PST

IWitness: A Multimedia Classroom Resource-An In-depth look at Multimedia Activities (Intersections with Echoes and Reflections Lesson 3)

November 17

4:00-5:00 PM PST

Teaching with Testimony: Video Editing Tools for Educators

December 7 &14

4:00-5:30 PM PST

Introduction to Echoes and Reflections: Two-Part Webinar Series

December 1

4:00-5:00 PM PST

Teaching with Testimony: Explore IWitness Video Essay Activities