Thursday, February 8, 2018 - 4:00pm
Social Sciences Building 250
3502 Trousdale Parkway
Los Angeles
90089
The USC Shoah Foundation Center for Advanced Genocide Research offers fellowships to support USC undergraduate students, graduate students, and USC faculty in conducting summer research using testimonies from the USC Shoah Foundation Visual History Archive and/or other unique USC collections and resources. This event features two of the Center's three Summer 2017 research fellows from a variety of disciplines who will share their research and reflect on the use and value of testimonies in their projects.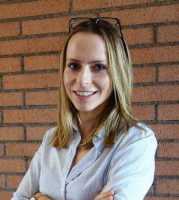 Maria Zalewska, PhD candidate in Cinema and Media Studies and Mellon PhD Fellow in the Digital Humanities, USC School of Cinematic Arts 
As a Graduate Summer Research Fellow at USC Shoah Foundation Center for Advanced Genocide Research, Zalewska focused her energy on a research project: "Digital Topography of Memory: Reimagining Landscapes of pre-Holocaust Poland." The project engages with the Institute's Visual History Archive by comparing the testimonies of memories of the pre-World War II spaces in which Poles and Jews interacted with their cinematically narrativized counterparts.
By juxtaposing the archival testimonies with post-World War II documentary films, Zalewska begins to theorize different levels of spatial imaginings and collective encounters with the memory of pre-Holocaust Poland. She investigates the way the pre-Holocaust landscapes were first imagined, experienced and co-produced by their Jewish inhabitants and then reimagined by the Polish inhabitants. She asks, how is the artistically rendered memory of pre-Holocaust space different from the one we know from survivors' testimonies?
To narrow her research, Zalewska specifically looks at the eighteen villages and towns scattered throughout the Polish countryside that are portrayed in the documentary film Po-Lin (2008), by Jolanta Dylewska. In this film, Dylewska recorded interview with the last of the witnesses of pre-Holocaust Poland and presented an image of peaceful cohabitation of two existing cultures.

Noha Ayoub, USC undergraduate student majoring in Law, History and Culture and minoring in Middle East Studies
As a DEFY Undergraduate Summer Research Fellow at the Center, Ayoub studied nationalism in Rwanda and  the ways in which fictionalized narratives against Tutsis perpetrated by the state led to genocide over 20 years  ago. During her month-long fellowship, Ayoub watched dozens of testimonies and supplemented her viewing  with texts about nationalism in order to contextualize the stories the survivors tell in their testimonies.
 Refreshments will be served. Please RSVP to cagr@usc.edu.