Corrie ten Boom Scholar Welcomed to USC Campus
Sun, 08/31/2008 - 12:00am
Consulate General of Poland and USC Institute for Genetic Medicine Art Gallery Welcome Dr. Jacek Leociak.
Checks and balances for systemic interaction:  Subjective, Objective and Symbolic Modes of Violence
by Lacey Erhlich and Sam Fassbinder, PhD
As tensions between religious groups, races, and governments throughout the world intensify, it is imperative that individuals critically examine these roots of social violence, while effectively working to spread a deeper consideration of the human condition.  This theme was one of the topics of discussion at a dinner for over 60 guests co-hosted by the Consulate General of the Republic of Poland and the USC Institute for Genetic Medicine Art Gallery, on Saturday, August 23, 2008.  The dinner's purpose was to welcome USC Shoah Foundation Institute Fellow, Dr. Jacek Leociak, here from Warsaw, Poland, to his six weeks fellowship at USC.
The USC Institute for Genetic Medicine Art Gallery is a space where artists can "incubate" art projects, raising the money necessary for professional presentation of such projects while developing and conceptualizing the presentation of art in a spirit of constructive, life affirmative practice.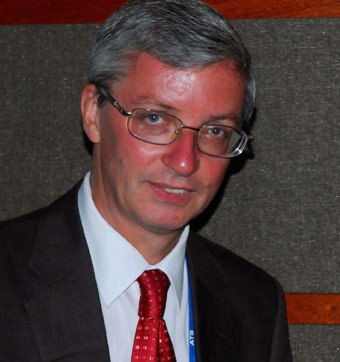 Jacek Leociak, PhD, Historian of Literature, Assistant Professor in the Institute of Literary Research, Polish Academy of Sciences (IBL PAN), and Director of IBL PAN post-graduate studies, has devoted his life to communicating the importance of understanding, respecting, and appreciating the diversity derived from collaboration among individuals of numerous cultural and spiritual backgrounds.  His presentation at the USC Institute for Genetic Medicine Art Gallery underscored these themes.
Through the exploration and careful examination of the events leading up to and during the Holocaust, Dr. Leociak hopes bridges will form to cross cultural gaps between numerous groups of people as well as provide data for continual renewal of organizational systems.  Visiting the University of Southern California from August 16 to September 26, 2008, Leociak hopes to raise awareness in the younger generation of the horrific trials of the Polish Jews and Polish intellectuals, artists and good citizens during the Holocaust.
Surprisingly, Dr. Leociak has no genetic connection to any Polish Holocaust survivors.  Rather, he explained, he grew up in what had been the Warsaw ghetto, born a mere 12 years after the war began, which exposed him to the aftermath of the devastating event.  "I feel like it is a part of my heritage," Dr. Leociak said.  In seeing the aftermath of the Holocaust, Dr. Leociak determined that "to study the Holocaust is not enough…because it is not a discovery of ancient technology," but rather younger generations must be guided to "prepare themselves for future threats," for "young people are responsible for the future."
Dr. Leociak began his studies in Poland by examining the archives of the Jewish Historical Institute in Warsaw.  While in the United States, he will document and examine the testimonies archived in USC's Shoah Foundation Institute, enabling him to gather a vast amount of research with which to continue his studies.  The archive, started in 1994 by Steven Spielberg, is home to nearly 52,000 audio visual interviews of Holocaust survivors and other witnesses.
The event featured a tour of the Gallery's exhibit, Immigration:  A Transfusion for the Body Politic, by internationally exhibited artist, Barbara Strasen and her protégé, Luis Moreno, an immigrant to Los Angeles from Mexico.  LAPD Captain Tina Nieto spoke to the guests, reminding that "no matter where you're from, this is a global world and we're all a part of it."  Also featured were films by the Polish Film Festival of Los Angeles, Hope Media Productions, and programs by community-based organizations:  Back to the Garden, Grass Roots Community Network, and the National Institute for Community Enlightenment.  Guests were impressed by Dr. Leociak's research and believe it will help to deal with one of humanity's most crucial problems:  the need to prevent future war, and to understand the importance of keeping a peaceful and respectful attitude toward other cultures.