Indexing unlocks the archive's educational potential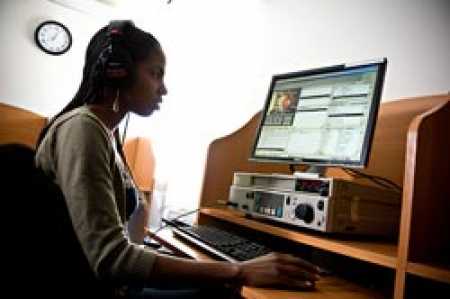 "It was a very eye opening process," said Consolée Uwamariya, of her experience indexing the first three testimonies of survivors of the Rwandan genocide, collected by the Institute and its partner in Rwanda, IBUKA.  A survivor of the genocide herself and currently living in Los Angeles, Consolée continued, "Approaching the testimonies as an indexer made me think in depth while listening, rather than just listening emotionally.  I was taking into consideration what would be useful to the end users and trying to make sure every detail is accounted for, such as names, places, and dates.  From a genocide survivor's point of view, it was very hard to listen to the testimonies again and again.  But we used Holocaust survivors' testimonies for training, and that was a wake-up call for me.  Their testimonies made me realize that we can do so much more than just grieve alone.  Just having the courage to tell our stories is making sure the world knows what happened.…"
One of the largest video testimony archives in the world, the USC Shoah Foundation Institute's Visual History Archive contains more than 100,000 hours of video interviews, in which Holocaust survivors and other witnesses share their life stories.  In addition to indexing, preserving, and making accessible the Holocaust eyewitness testimony, the Institute is assisting the collection and indexing of testimony from survivors of other genocides.
In 2008, IBUKA conducted three pilot interviews with survivors of the Rwandan Tutsi genocide; these are the interviews Consolée indexed.  And this spring, interns from the Documentation Center of Cambodia (DC-Cam) conducted two pilot interviews with survivors of the Cambodian genocide and have begun to index them.
Indexing, the process by which the video testimonies become searchable, is the assignment of keywords to specific video segments.  Anyone searching the archive can locate testimony clips in which interviewees speak about a specific topic or theme using more than 50,000 keywords, including geographic areas, time periods, location names, and experiences; they can also search via the names of more than 1.2 million individuals mentioned within the testimonies.
With generous support from the Stavros Niarchos Foundation, indexing of more than 300 Greek language testimonies was completed recently, and soon with funding from Herbert Zimeles and M. Robert Zimeles, the Institute will continue to index its Yiddish language testimonies.
"The historical importance of these testimonies is inestimable," said Stephen Smith, Institute Executive Director, "but it's the ability to search the archive, to identify testimony that addresses a particular theme or topic, which makes the archive useful to educators, students, and scholars.  If the archive did not have this feature, its full potential as an educational resource could never be realized."
Did you know?
Users can search the entire archive and view testimony at more than 20 institutions on 3 continents.  Click here to find the institution nearest you which offers access to the archive.
Tapeless indexing
In the past, indexing was done using VHS copies of the testimonies.  Indexers had to be physically present at the Institute to work with the videotapes, and as the equipment they used became outdated, it also became more difficult to replace.  This spring, the Institute began using software it developed which allows indexers to work with digital mpeg files instead of VHS tapes.  Because this software is web based and requires no specialized equipment to use, the Institute now has the flexibility to work with individuals anywhere in the world to index the testimonies.  The new software has also permitted visiting colleagues who began indexing testimony at the Institute to continue their work abroad.  "This new software will make it easier to index testimony now and in the future," said Institute Director of Research and Documentation Karen Jungblut, who has supervised the cataloging and indexing effort since 1998.  "It's an example of how the Institute is harnessing technology to pursue its mission ever more effectively."
The table below illustrates the total number of interviews collected by language:
| Language | Total Interviews Collected |
| --- | --- |
| English | 24,815 |
| Russian | 7,084 |
| Hebrew | 6,302 |
| French | 1,881 |
| Polish | 1,566 |
| Spanish | 1,355 |
| Hungarian | 1,354 |
| Dutch | 1,082 |
| German | 931 |
| Bulgarian | 624 |
| Slovak | 573 |
| Czech | 566 |
| Portuguese | 563 |
| Yiddish | 561 |
| Italian | 434 |
| Croatian | 393 |
| Serbian | 378 |
| Greek | 306 |
| Ukrainian | 304 |
| Swedish | 266 |
| Romanian | 129 |
| Danish | 69 |
| Lithuanian | 45 |
| Norwegian | 34 |
| Romani | 24 |
| Ladino | 10 |
| Macedonian | 9 |
| Slovenian | 6 |
| Flemish | 5 |
| Sign | 5 |
| Kinyarwanda | 3 |
| Khmer | 2 |
| Japanese | 1 |
| Latvian | 1 |