Researching Dutch Resistance: Institute Welcomes Visiting Scholar
Tue, 10/25/2011 - 12:00am
PhD candidate studies women's underrepresentation.
Atje Gercama becomes first scholar in residence of College 2020 research cluster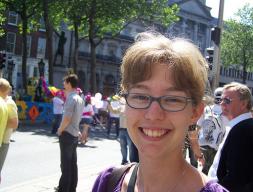 Atje Gercama, a Ph.D. candidate in International Peace Studies at the Irish School of Ecumenics, Trinity College Dublin, has come to the Institute for a month of research using the Visual History Archive.  Gercama will study the testimonies of Holocaust survivors and other witnesses in support of her dissertation, Towards a Feminist Approach to Ethics of War.
Gercama is the first scholar in residence of the College 2020 research cluster, Resisting the Path to Genocides.  The research cluster is led by Stephen D. Smith, USC Shoah Foundation Institute Executive Director, and Wolf Gruner, Shapell-Guerin Chair in Jewish Studies and a Professor of History in the USC Dana and David Dornsife College of Letters, Arts and Sciences.  It addresses the question, "What enables people to oppose or resist racist ideologies, state discrimination practices or the active participation in mass atrocities?"  Gercama, whose Ph.D. research focuses on the underrepresentation of women's war experiences in mainstream discourses on war, will use the Visual History Archive to "explore the role of the Dutch resistance in the normative context of saving human lives during World War II."