Student-films bring survivors' voices back to Czech borderlands A high school teacher's project for his class draws regional attention to Holocaust history, current ethnic and social issues
Wed, 03/20/2013 - 12:50pm

After signing the Munich Agreement in September 1938 and under the pretext of protecting the interests of ethnic Germans who agitated for Nazi rule, Hitler annexed the Czechoslovakian borderlands. While some still hoped that giving up Czechoslovak territory would bring peace, the agreement signed by Great Britain, Germany, Italy, and France meant the beginning of occupation for the citizens of Czechoslovakia.
Ethnic and social tension was a challenge to peace in the borderlands before World War II, and it's still a challenge. So is antisemitism; when a Holocaust memorial in the city of Česká Lípa was vandalized in 2008, international attention returned to a region in the Czech Republic where Nazism once flourished. But these days, the city is attracting a different kind of attention, thanks to student films that use Holocaust survivor testimony to chart a better course for the borderlands today.

Vojtěch Holub teaches at Euroškola high school in Česká Lípa. Last year, Holub conceived of a project that would require his students to produce short films that include video testimony of Czech Holocaust survivors, all of which could be found in the Visual History Archive of USC Shoah Foundation – The Institute for Visual History and Education (the Institute). The archive has been available in Prague since 2010, at the Malach Visual History Centre at Charles University. Among its tens of thousands of searchable testimonies are more than 560 from the Czech Republic, many given by survivors who had lived in the borderlands. The Malach Centre is 42 miles south of Česká Lípa; Holub organized day trips for his students, and he organized a year-long creative seminar to guide their efforts. The seminar culminated in a public film screening for more than 400 of the students' peers and teachers.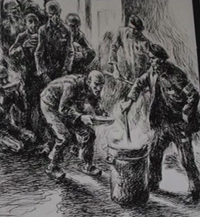 In the summer of 2012, Holub attended an annual seminar for Czech Teachers in Jerusalem. Organized by Yad Vashem's European Department of the International School for Holocaust Studies, the seminar gave Holub an opportunity to present one of his student's films. He screened Holocaust - strava (Holocaust - diet), a film about food- and hunger-related issues in the camps during the war. After seeing it, teachers from various regions of the Czech Republic began bringing their students to Prague to explore the Institute's Visual History Archive.
Holub recently launched the second year of his filmmaking project, with a new class of students.
"At the Institute, we talk about the 'power' of testimony; well, Vojtěch Holub and his students are demonstrating what that really means," said Martin Šmok, Senior International Program Consultant for the Institute. "With their own creativity and initiative, they've stirred up regional interest in learning about the Holocaust, and they're interpreting survivors' stories in ways that confront the current ethnic and social strife in the borderlands. None of this would be possible without testimony."