Following a screening of Finding Hillywood, a documentary about the birth of the Rwandan film industry, Rwandan film pioneer Eric Kabera spoke about making movies 20 years after the genocide in a Q&A hosted by USC Shoah Foundation executive director Stephen Smith.
Screened at USC School of Cinematic Arts as part of the Outside the Box [Office] series, Finding Hillywood recounts the efforts of a few Rwandan filmmakers to create a film industry and supporting the Rwandan Film Festival. Among these stories is Kabera's. Kabera founded the Rwanda Cinema Center and Kwetu Film Institute, which train Rwandans in the art and business of filmmaking. For many Rwandans, the film festival is their first opportunity to see movies made by Rwandans on a large screen.
The film is directed by Christopher Towey and Leah Warshawski. Finding Hillywood producer Ni'Coel Stark also participated in the Q&A.
Smith started by asking Kabera about the dynamic of the Rwandan film industry 20 years after the Rwandan Tutsi Genocide. Kabera said most of the films his students make are about genocide because they've grown up with it their entire lives. The key is to not overwhelm audiences with too many films about genocide, he said, and try to steer filmmakers toward other subjects as well.
"It's tough to ask, 'Can we make something else?'" Kabera said. "We're trying to make [such films] as light and as beautiful as possible. The filmmakers [of Finding Hillywood] managed to do that, and you walk out after the film and feel it's sad but uplifting."
An audience member asked Kabera what's next for the Rwandan film industry and in his own work. Kabera said he's working on raising money to build a state-of-the-art theater in Rwanda so Rwandans can see the 20 feature films made about the genocide over the last 20 years.
A student who went to Rwanda last year on the Problems Without Passports course asked Kabera how he deals with the aftermath of genocide through film and the kind of support he gets from the Rwandan government.
Kabera said film is an "escape" for him, and it's how he deals with the genocide. But getting financial support from the government is an uphill battle, even though the community is behind him and should have access to film.
"I'm not giving up, but it's tough. It's the community that wants it, but there's no national program to start it. It's not a national priority," Kabera said. "You want the community to own it."
Stark added that funding Finding Hillywood was challenging, and relied on several sources including a Kickstarter campaign, angel donors and investors. It was important to be sensitive to potential donors' means and not overwhelm them with requests, she said.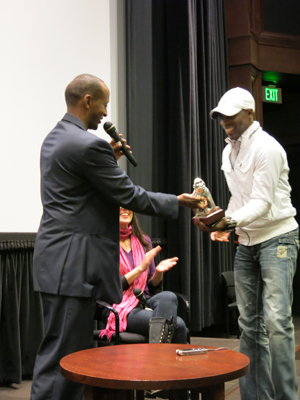 The last questions of the night focused on Kabera's method for handling the traumatic subject matter of genocide in film. He admitted that he's gotten a reputation for being "Mr. Genocide Man" and making people cry from his films, but he's trying to explore lighter, more uplifting topics through recent films such as Africa United and the upcoming Intore.
"We still live in a very fragile society. You need to have a level of dignity. That's what drives me the most," Kabera said. "I want that element of passion, compassion, and human voice to resonate." 
The evening ended with a surprise. In the audience was Richard Harding, a producer of the 2010 film The First Grader, which was honored at the Rwanda Film Festival two years ago. Harding didn't attend the festival, so Kabera was finally able to present him the trophy for the festival's Silverback Award.