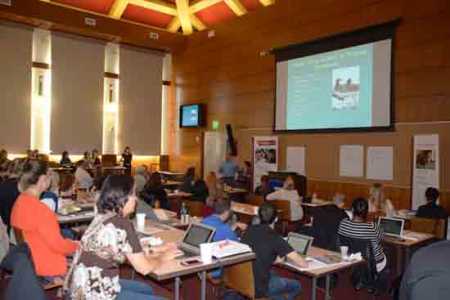 USC Shoah Foundation and the Anti-Defamation League (ADL) hosted the first session of this year's Holocaust Education Institute Friday, Oct. 24 at the University of Southern California, which was attended by an enthusiastic group of over 50 educators from the Los Angeles area.
The Holocaust Education Institute is a two-part professional development program that introduces educators to Echoes and Reflections and IWitness. Participants learn effective strategies for Holocaust education, providing linkages between the Holocaust and a variety of disciplines, while meeting state and Common Core standards.
Friday's all-day session at USC's Tutor Center was the first of two sessions for this year's Holocaust Education Institute. The second session will be held Feb. 27, 2015, at the Museum of Tolerance and the Los Angeles Museum of the Holocaust. An additional session for Catholic educators will be held Feb. 6, 2015.
Session One: A Multimedia Framework for Teaching the Holocaust began with an Echoes and Reflections training, led by Matthew Friedman, ADL associate regional director. Friedman walked the participants through the Echoes and Reflections teacher's guide, which includes primary and secondary materials, lesson plans, testimony clips from the Visual History Archive, and more.
The afternoon was devoted to IWitness. Jenna Leventhal, IWitness manager, and Claudia Wiedeman, USC Shoah Foundation associate director of education – educational technologies and training, introduced the participants to IWitness and how to use it in the classroom as well as the IWitness Video Challenge.
The participants also completed one of IWitness's newest activities, Art in the Face of Death. It is a new Mini Quest – a shorter, fully downloadable activity – that explores art made by Holocaust survivors. The educators had the chance to complete the activity just as their students would, and were enthusiastic about its content and flexibility.
Rhea McIver-Gibbs, a principal from Rialto School District, said the Holocaust Education Institute was a good opportunity for her and the six teachers from her district who were also in attendance to learn about Holocaust instruction. She added that it offered particularly valuable insight into how to use sources and how to teach students to be aware of where they get their information.