As part of USC Shoah Foundation's commemoration of the liberation of Auschwitz, which took place 70 years ago on January 27, 1945, IWitness has just published three new Information Quest activities featuring child survivors of Auschwitz-Birkenau—Paula Lebovics, Eva Slonim, and Eva Kor. With these included, IWitness now offers 28 multimedia activities designed for secondary educators to utilize with their students.

In the Information Quests, students follow three distinct trajectories of the young girls who, during the Holocaust, shared the same tragic experience—they were deported by the Nazis to the Auschwitz-Birkenau extermination camp in occupied Poland.

Students exploring these Information Quests choose and analyze clips from the child survivor's audiovisual testimony. Through close reading of a chosen clip, students will isolate content-specific words and arrange these in different sizes and colors to construct a Word Cloud. Grounded in primary source analysis, the new activities foster critical thinking and offer engaging learning opportunities to meet the unique needs of learners at all levels.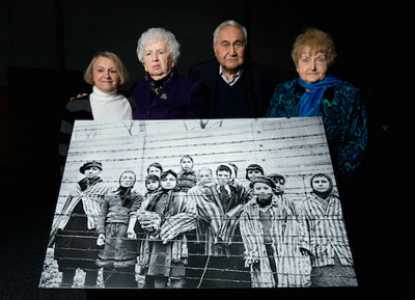 Lebovics, Slonim, and Kor were also included in the iconic image taken shortly after liberation by Soviet troops at Auschwitz-Birkenau. Kor and Lebovics reunited in Poland on January 26, 2015, for a new photo in honor of the 70th anniversary of liberation. These new activities also support Auschwitz: The Past is Present, USC Shoah Foundation's campaign to commemorate the 70th anniversary of the liberation of Auschwitz. For more information and resources, visit: http://iwitness.usc.edu/SFI/70Auschwitz/