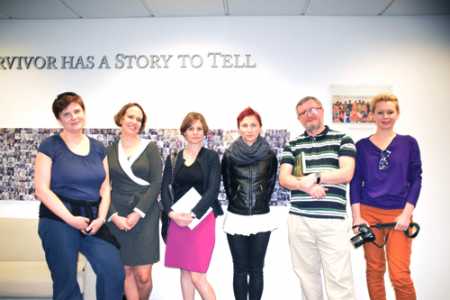 Trzy tygodnie temu USC Shoah Foundation zorganizowała w Polsce obchody 70. rocznicy wyzwolenia Nazistowskiego obozu Auschwitz. A w ubiegłym tygodniu pracownicy Muzeum Historii Żydów Polskich POLIN odwiedzili nas.
Razem z Moniką Koszyńską, reprezentującą USC Shoah Foundation w Polsce, grupa przedstawicieli Działu Edukacji Muzeum odwiedziła biuro USC Shoah Foundation w ramach wizyty studyjnej do muzeów San Francisco i Bay Area oraz do Los Angeles. Muzeum POLIN niedawno, w październiku 2014 roku, świętowało otwarcie wystawy głównej, a od kwietnia 2013 prowadzi szeroką działalność edukacyjną i kulturalną.
Muzeum POLIN jest też punktem pełnego dostępu do Archiwum Historii Wizualnej i ma w swojej ofercie 8 lekcji dla szkół wykorzystujących relacje świadków z tego zasobu. Muzeum Historii Żydów Polskich POLIN w Warszawie prezentuje 1000 lat historii Żydów na ziemiach polskich, od średniowiecza do czasów współczesnych. Wystawa stała prezentuje tę historię jako narrację używającą do jej prezentacji instalacji artystycznych, narzędzi interaktywnych, kilkudziesięciu obiektów historycznych, obrazów, projekcji video i wielu innych narzędzi. W skład wystawy wchodzi osiem galerii, w tym: Las, Pierwsze spotkania, Na żydowskiej ulicy i Zagłada.
Flagowy program rozwoju zawodowego nauczycieli "Nauczanie z użyciem relacji w XXI wieku" miał już w Polsce 3 edycje, w tym dwie w Muzeum POLIN. Następna rozpocznie się w lecie bieżącego roku.
Podczas wizyty w Kalifornii, pracownicy POLIN chcieli zaobserwować jak pracują różne muzea historyczne i artystyczne i dowiedzieć się, jak wykorzystać ich doświadczenia w pracy w Polsce. Po wizycie w USC Shoah Foundation mają nadzieję na jeszcze większe wykorzystanie zasobów Archiwum Historii Wizualnej w pracy edukacyjnej i projektach naukowych oraz na poprawienie dostępu do niego w Muzeum POLIN.
Grupa chciała również dowiedzieć się więcej na temat metod indeksowania i katalogowania relacji świadków, gdyż Muzeum POLIN buduje własny zasób historii mówionej.
Koszyńska powiedziała, że ich celem jest doprowadzenie do tego, aby historia polskich Żydów była lepiej reprezentowana w programie polskich szkół.
- Ludzie nie zawsze myślą o Żydach jako o integralnej części historii Polski przez tysiąc lat jej istnienia do II wojny światowej, dlatego nie rozumieją jak ważne jest odwiedzenie Muzeum POLIN. Przedwojenna historia Polski to historia polskich Żydów. Ale żeby to zrozumieć, trzeba odwiedzić Muzeum – powiedziała Koszyńska.
Program "Nauczanie z użyciem relacji w XXI wieku" - Muzeum POLIN