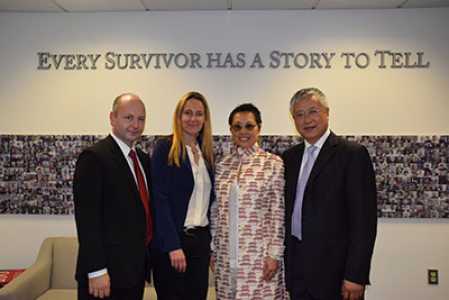 USC Shoah Foundation's Karen Jungblut and Cecilia Chan spoke on a panel about the power of testimony at University of Pennsylvania's Alumni Weekend last Friday.
The "Power of Testimony" panel, presented by USC Shoah Foundation and sponsored by the UPenn Class of 1980, explored the various ways the stories of real people can have an impact on students, faculty, and educators. Jungblut, director of research and documentation, moderated the discussion, and the panelists were Cecilia Chan, Nick Okrent, Dan Ben-Amos and Randi Boyette.
Cecilia Chan is a member of the USC Shoah Foundation's Next Generation Council, helping to actualize ideas into results while heralding USC Shoah Foundation's mission to the next generation. The Siezen Foundation, a charity founded by Ms. Chan, completed the first phase of the Nanjing Testimony Project with the USC Shoah Foundation and she is increasing her contribution to USC Shoah Foundation's efforts with additional phases of the Project.
Okrent is Research and Instructional Services Librarian at UPenn's Van Pelt Library and is the access and outreach coordinator for UPenn's Visual History Archive access. Ben-Amos is Professor of Asian and Middle Eastern studies at UPenn.
Boyette is UPenn's local ADL regional education director, and conducts IWitness and Echoes & Reflections trainings for middle- and high school teachers in the area.