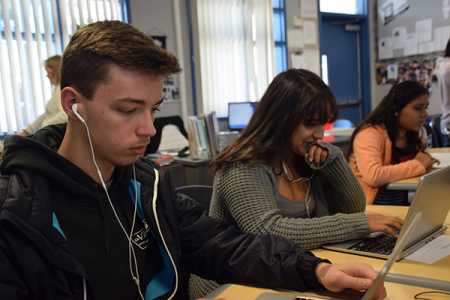 Every Friday, the following week's 100 Days to Inspire Respect educational resources will be previewed.
The sixth week of 100 Days to Inspire Respect will get students thinking about intolerance and how to counter it through acceptance and empathy.
Students will engage in close of reading of text as they consider various forms of intolerance, including racism. Resources available this week provide students with opportunities to consider the topic of acceptance, its manifestations and its impact on individuals – both when it exists or doesn't exist.
Finally, students will explore the concept of empathy, which focuses on students' own capacity for it and the understanding that it plays a critical role in promoting justice and in countering hate and intolerance.
The "Countering Intolerance" week will begin on Monday, February 27, with a new IWitness Watch page topic: Intolerance. Six clips of testimony from the Visual History Archive that describe genocide survivors' and witnesses' experiences with intolerance will be published to the Watch page on IWitness. Each clip is accompanied by biographical information, related terms and activities, and supporting graphic organizers.
Tuesday, February 28's resource is a Mini Quest activity called "Divided Classrooms: Discrimination and Division in Rwanda." Authored by Rwandan educators, the activity focuses on the impact of divisionism on students in school in the months leading up to the Genocide against the Tutsi by exploring the testimony of individuals who survived it. Students will create a visual expression, photograph or poster reflecting how they imagine they can counter discrimination in schools. 
The month of March (Women's History Month) will begin on Wednesday with a Mini Lesson on "Promoting Acceptance." Students will analyze and discuss the topic of acceptance through close reading of Holocaust survivor Celina Biniaz's testimony, as well as identify actions that promote acceptance of diversity. 
Thursday, March 2 will feature an infographic on "5 Ways to Counter Intolerance Through Testimony." The infographic will provide helpful tips for educators on how to use testimony to develop their students' empathy and action against intolerance.
The next day will feature a new Information Quest activity called "Faces of Intolerance." The activity will engage students in learning about forms of intolerance. It was authored by teacher Lesly Culp.
Culp also authored the next day's activity, a Mini Lesson on "Empathy." In this short lesson, students will begin to understand the concept of empathy, with focus on students' own capacity and the important role it plays in justice and countering hate and intolerance.
The Countering Intolerance week will conclude on Sunday, March 5 with a Video Builder activity called "Wash, Rinse, Don't Repeat." This activity focuses on exploring racism and intolerance through exploration of racial profiling practices. The activity was authored by Culp and teacher Michelle Clark.
We want to hear from you!  Tell us about your experience using the 100 Days to Inspire Respect resources for a chance to win an Amazon gift card.