"100 Days to Inspire Respect" Week 7: Women/Women's Rights
Fri, 03/03/2017 - 5:56pm
Resources this week engage students to think about the experiences of women in a variety of contexts.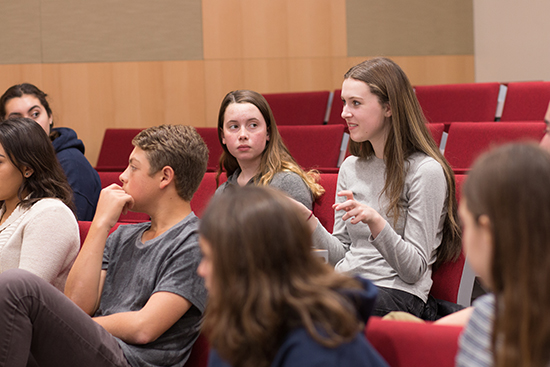 Every Friday, the following week's 100 Days to Inspire Respect educational resources will be previewed.
The theme of the 7th week of "100 Days to Inspire Respect" is "Women/Women's Rights." Resources this week engage students to think about the experiences of women in a variety of contexts.
The week begins on Monday, March 6 with a new Watch Page topic: Gender. Testimony clips in this category will focus on the experiences of female survivors and witnesses to genocide.
On Tuesday, the featured resource will be a Mini Quest activity titled "Sexual Violence During Genocide." The activity will share the resilience and role of women in post-genocide Rwanda.
The following day, IWitness will publish a Mini Lesson called "Women's Rights," which will explore justice and equality for women in the context of human rights.
The rest of the week will debut a series of Information Quest activities called "Women You Should Know." Each activity is focused on a different female genocide survivor or witness and students construct a word cloud about her after watching clips of her testimony and learning more about her leadership and significant contributions.
Thursday, March 9's Information Quest is about Holocaust survivor Renee Firestone. After surviving Auschwitz as a teenager, Renee opened a fashion business in Los Angeles and worked as an interview for USC Shoah Foundation, conducting over 200 other Holocaust survivors. She is also a prolific public speaker.
The next Information Quest in the series is about Elizabeth Holtzman, a US Congresswoman and civil rights activist who helped expel Nazi war criminals from the United States during her time in the House of Representatives. 
On Saturday, the series will highlight Nanjing Massacre survivor Xia Shuqin. In 1994, Xia became the first Nanjing Massacre survivor to go to Japan and give her testimony. In 2000, Xia sued two right-wing Japanese scholars who had written that she had made up her story and she eventually won. On December 13, 2014, she attended the National Memorial of Nanjing Massacre with president Xi Jinping. 
Finally, the 'Women You Should Know" series (and "Women/Women's Rights" week) will close on Sunday, March 12, with an Information Quest about Aurora Mardiganian. Aurora became the face of the Armenian Genocide after writing a memoir, Ravished Armenia (1918), which was adapted into a film, Auction of Souls (1919), in which Aurora played herself.