"Destination Unknown" Documentary Reveals New Interviews of Holocaust Survivors
Tue, 06/06/2017 - 5:00pm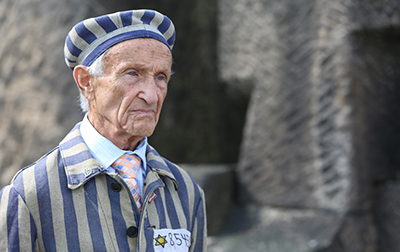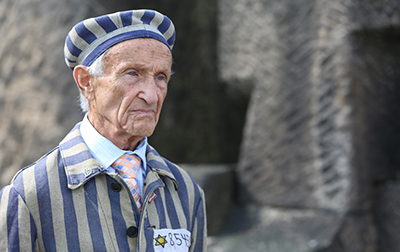 At screenings throughout the UK this summer, audiences will see a film 14 years in the making.
Destination Unknown is the product of producer Llion Roberts's years spent traveling the world to film interviews Holocaust survivors. The film details their stories of survival and also the various ways they have built their lives and lived with their memories in the decades since.
USC Shoah Foundation Executive Director Stephen Smith is an executive producer of the film, and most of the survivors featured in the film also gave their testimonies to USC Shoah Foundation's Visual History Archive, including Edward Mosberg, Mietek Pemper, Roman Ferber, Helen Jonas, Frank Blaichman, Stanley Glogover, Eddie Weinstein, Victor Lewis, Regina Lewis, and Eli Zborowski.
In the film, Mosberg is seen returning to the camp where he had been imprisoned, dressed in a striped prison uniform, in order to remember and pay tribute to fellow survivors and victims. Meanwhile, Pemper, who helped make Oskar Schindler's famous list as a stenographer at Krákow-Płaszow, refused to speak on film about his experiences – until now.
Other survivors in the film were partisan fighters or escaped Treblinka and other camps.
Director/editor Claire Ferguson will join Roberts for Q&As at screenings in London on June 15 and 18. Additional screenings and Q&As will be held throughout England over the summer. Learn more about upcoming screenings here.