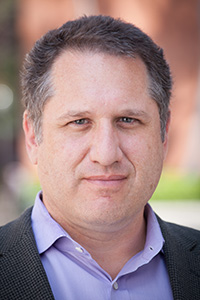 The Future of Storytelling (FOST) Festival and Summit in Snug Harbor, New York City this week will include a talk by USC Shoah Foundation Chief Technology Officer Sam Gustman as well as exhibits of New Dimensions in Testimony, The Last Goodbye and Lala.
Gustman is a featured speaker at the FOST Summit on October 4 and 5, an invite-only gathering of leaders in art, science and the business of storytelling. The summit includes roundtable discussions, hands-on creative workshops, performances and the Story Arcade, which exhibits over 100 immersive storytelling projects and technologies.
Gustman will speak about his roles as CTO of the Shoah Foundation and associate dean at the USC Libraries, where he holds a faculty appointment. He is in charge of IT for the Libraries, where he has also started the USC Digital Repository. As CTO of USC Shoah Foundation, Gustman provides technical leadership for the integration of the Institute's digital archives into USC's collection of electronic resources, ensuring the archives' accessibility for academic and research communities at USC and around the world. He is responsible for the operations, preservation, and cataloging of the institute's 8-petabyte digital library, one of the largest public video databases in the world.
Members of the public can experience all of USC Shoah Foundation's interactive resources and films – Lala, The Last Goodbye and New Dimensions in Testimony – in one place at the FOST Festival, October 6-8. The festival features over 100 exhibits of VR, AR, games, interactive films and more, panel conversations with leaders in media, technology and education, and entertainment stages.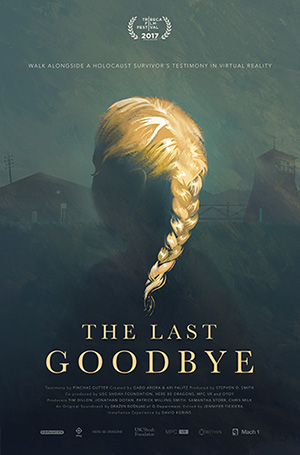 Lala presents viewers with a VR experience in which Holocaust survivor Roman Kent tells the story of his beloved dog Lala, who was with him when he spent time in the Lodz ghetto. The experience takes viewers back and forth between Kent's apartment in present-day New York City, where he was filmed telling the story, and animation that illustrates Lala and Kent as a young boy. The film is accompanied by an original musical score by composer Ben Wallfisch.
In The Last Goodbye, powerful testimony of the tragedy of the Holocaust is preserved for the first time in poignant, room-scale VR. Survivor Pinchas Gutter takes audiences with him on his final visit to Majdanek Concentration Camp, where his parents and sister were murdered during World War II.
New Dimensions in Testimony is an interactive testimony platform created by USC Shoah Foundation and Conscience Display. It allows future generations the opportunity to interact with Holocaust survivors through a virtual conversation. This innovative project delivers a learning environment in which a survivor answers questions as if he or she were in the room. Whether in a classroom or museum setting, the exhibit features a filmed image of the survivor, creating the perception that the survivor is in the room and responding to questions conversationally with answers that are authentic and spontaneous.