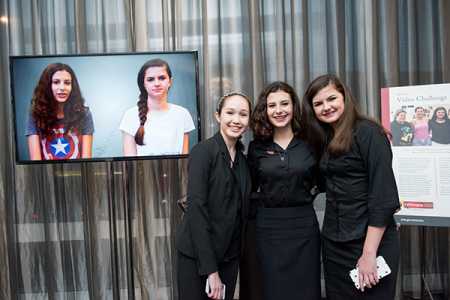 Students are invited to demonstrate how testimony inspires them to counter hate in the IWitness Video Challenge, USC Shoah Foundation's annual contest that offers finalists up to $10,000 in scholarships and grants. The 2018 contest launched today; submissions are due April 13, 2018.
The 2018 IWitness Video Challenge, created by USC Shoah Foundation in partnership with Discovery Education, provides an actionable way to promote equality, challenge bias, discuss tolerance, and engage students in a service-learning project that inspires action.
Teachers and students can be part of a movement that counters hatred in all its forms, from racism to antisemitism to xenophobia.
In this contest, students will listen to testimonies of survivors and witnesses of genocide and become inspired to counter hate. They will complete research-based and standards-aligned activities, culminating in a community action project. To compete in the Video Challenge, students will document their work in a video essay, which will share their message with the world.
This important opportunity for youth to be Stronger Than Hate—and inspire their friends, school, and community to join them—also comes with the chance to win scholarships and grants totaling $10,000. 
In their community action projects, previous winners have invited classmates to illustrate their identities, formed an uplifting poetry club, written kind notes to every student in their school, and participated in an immigration rally. Winners and finalists include middle and high school students across the country, from Chicago, Il., to Irvine, Calif.