Survivors and Liberators Reunite at Dachau in "The Liberators: Why We Fought"
Fri, 12/08/2017 - 5:00pm
Comcast Xfinity subscribers can watch the film on-demand as part of USC Shoah Foundation's PastFORWARD broadcast through December 29.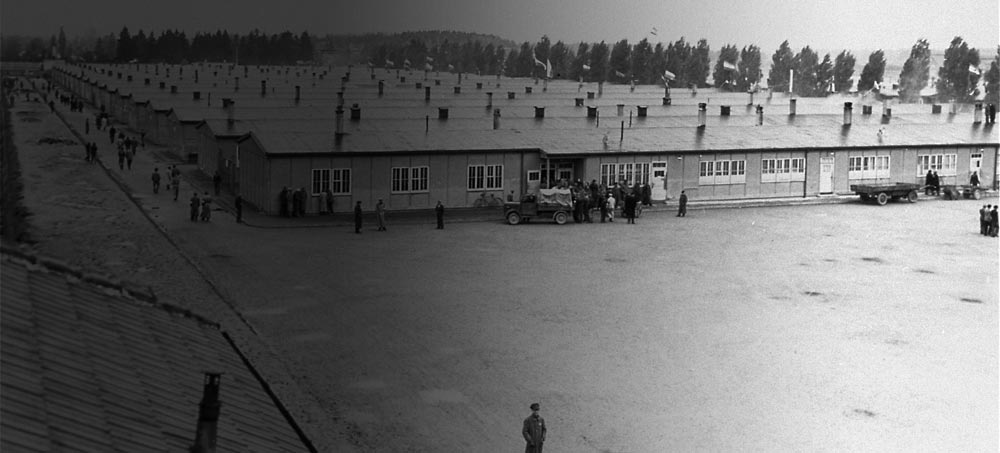 There is a scene in the documentary The Liberators: Why We Fought that has captured the hearts of millions of viewers around the world.
Holocaust survivor Joshua Kauffman reunites with Daniel Gillespie, one of the American soldiers who liberated Dachau in 1945, where Kauffman was near death. As Gillespie slowly makes his way over to Kauffman with his walker at a Los Angeles beach, Kauffamn is overcome with emotion. Against Gillespie's quiet protestations, Kauffman gets down on his knees and kisses Gillespie's shoes. It's a gesture of gratitude he'd wanted to give for 70 years.
The film's director Emanuel Rotstein called it a "surreal" moment.
"This reunion was a life-altering experience for me as a film-maker," Rotstein said. "It seemed as if the waves of the Pacific Ocean stopped and the whole world around us held its breath; real and raw, never captured on screen."
Kauffman and Gillespie are two of seven Holocaust survivors and liberators who are profiled in The Liberators. Comcast Xfinity subscribers can watch the film on-demand as part of USC Shoah Foundation's PastFORWARD broadcast through December 29. The them of this year's broadcast is "Liberation" and includes the Steven Spielberg film Saving Private Ryan and full-length testimonies from the Visual History Archive.
Rotstein said his inspiration for the film, which premiered on the History Channel in 2015, came from learning more about the US soldiers who witnessed the horrors of the Holocaust at the end of World War II.
"The perspective of the American GIs who risked their lives to free the world from Hitler and safeguard the incarcerated and doomed prisoners needed a larger audience in my view," Rotstein said.
On the occasion of the 70th anniversary of the liberation of Dachau, the film documents both liberators and some of those they liberated and relives their emotional evolution to get an idea of what they have suffered and endured.
In the film, the survivors and liberators are seen returning to Dachau to commemorate the anniversary of liberation. Rotstein noted that what could have been an extremely painful experience for everyone involved actually turned out to be cathartic, healing and even joyful, bringing the survivors, liberators and their families closure and inner peace.
"I believe the lesson of the film is clear: Gratitude is a tremendous force," he said. "A force that gives us hope and strength. A universal force that makes us human. A force without an expiration date."
In the words of Eli Weisel, Rotstein quoted, "When you listen to a witness, you become a witness." We all have a responsibility to listen to survivors and witnesses, especially as fewer are left to share their stories. In The Liberators, we witness redemption and deep gratitude for what it means to be alive.
"Their words are valuable lessons to remember as we confront the challenges of large parts of our world in conflict and millions of people on the run," he said. "They are relatable for all who have saved, been saved and known of struggle and trauma."