History Saved: Major Project to Restore Damaged Testimonies Complete
Fri, 01/19/2018 - 5:14pm
A love of old movies drew Shiraz Bhathena into the moving image archive field. As an archivist and post-production specialist at USC Shoah Foundation, he supervised the process of restoring the Institute's testimonies with video and audio problems. The herculean task is finally complete.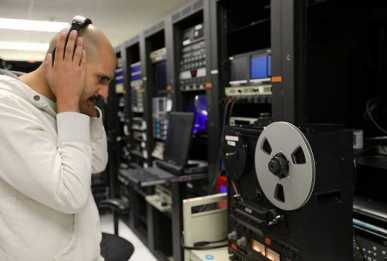 When you dispatch thousands of volunteer interviewers to collect 50,000-plus interviews on videotape, it's a given that a fraction of the footage will come back with flaws.
For USC Shoah Foundation, whose volunteers helped amass the world's largest repository of Holocaust and genocide testimony, blemishes have appeared in about 5 percent of the collection.
Most of these testimonies were recorded in the late 1990s using videotape technology. The Murphy's Law list of errors and glitches included unplugged microphones, faulty cables, too-low or too-high microphone volume, or dirty camcorder tape heads.
The result was that about 12,000 tapes had images that flickered or sound that had issues, occasionally to the point of unwatchability.
After a decade of scanning, diagnosing, prescribing and repairing the problematic testimonies, the task is – as of a few weeks ago – complete.
A restoration project of this magnitude was unprecedented. It required USC Shoah Foundation to write customized software and apply it painstakingly one video at a time.
Much of the day-to-day work fell to Shiraz Bhathena, a video archivist and post-production specialist who oversaw a small army of USC students.
Bhathena learned as a kid growing up in Milwaukee that anything shot on videotape can be lost to the ages.
He comes from a line of movie lovers. His mother – the daughter a movie-theater operator in India – always wanted to show Bhathena old Bollywood flicks. But, having been shot on film, they would frequently be out of circulation. Gone forever.
 "I thought that, well that's just Indian cinema -- American cinema is safe," he said.
But he learned that a whopping 90 percent of all American silent films made before 1929 and 50 percent of American sound films made before 1950 are lost.
After earning his bachelor's degree in film studies from the University of Wisconsin-Milwaukee, Bhathena worked at a news film archive for WTMJ-TV (Milwaukee's NBC Affiliate) and interned at the Library of Congress.
He attended grad school at UCLA on a scholarship, earning a master's degree in moving image archive studies. After a string of jobs at the Academy Film Archive, Sony Pictures, Deluxe Media, and the Sundance Institute, he landed at USC Shoah Foundation in 2014.
So devoted is Bhathena to his craft that he does the work on a volunteer basis, too. A member of the Association of Moving Image Archivists, he helped present a remastered version of the 1990 movie "Paris is Burning" for a 2015 screening in Portland. And he volunteers for Home Movie Day, in which a group of archivists provide a venue for viewing home movies as well as advice on digitizing the ones shot on film.
USC Shoah Foundation's original 50,000-plus testimonies lived on videotape -- nearly 300,000 cassettes. Because the shelf life for videotape lasts about 20 years, when USC Shoah Foundation's Information Technology Services (ITS) department finished digitizing them in 2012, they were relieved that no deterioration had taken place. But there were production errors that needed tending to.
Bhathena's first charge was to tackle the audio problems on nearly 2,000 tapes.
"Sometimes you'd have ones where they didn't adjust the volume properly, so it would be too low," he said. "A lot of times, because the microphones were of really good quality, it would pick up a frequency that was always in the room, like a refrigerator or something like that, and there would be a hum."
Using off-the-shelf products like ProTools, Bhathena and team were able to address the audio problems on all but about 15 tapes. On those, the testimonies are silent and captioned.
But the visual defects posed the most daunting challenges. Here, the off-the-shelf products were a mismatch for the gargantuan task at hand – akin to cleaning a bus with a toothbrush.
It required the post-production team to develop a new restoration technique that would fix each testimony enough so the off-the-shelf products could do the rest.
In addition to salvaging as many as 5,000 testimonies shot by USC Shoah Foundation volunteers, Bhathena and ITS have restored many testimonies videotaped by the Institute's partners in Canada.
Video restoration is technologically intensive. Practitioners are often so absorbed in the job they don't have time to watch what they are saving.
But Bhathena has seen some of the Holocaust testimonies that he helped salvage. One in particular stands out. When the video first came across his desk, it was unwatchable: just bands of black and red across the screen.
After giving it the treatment, a harrowing testimony came into view.
Bhathena recounts a story from the man who gave that testimony about a newly arrived woman he'd seen carrying her child at a concentration camp, trying to avoid the gaze of Nazi guards. The man addressed the woman, a stranger.
"He had said that if you show up with a child, they are going to definitely kill both of you," Bhathena said.
He advised the woman to give the child to an older woman, who would not be scrutinized as closely as a younger woman with child.
"She did, and she ended up thanking him years later," Bhathena said.  "That's when I really realized this was more than just me tinkering away with the skills I learned in grad school."