Story by Jessica MyLymuk
How then could I ever truly preserve your memory?
My efforts to record those six years of your life will be
As inadequate as the food you were given in the ghettos,
As insufficient as the Polish and German perspectives towards your hardships,
As inaccurate as the wrought iron sign that declared "Work Makes You Free."
But that does not mean I cannot try.
From this day on I will share this treasured message,
In the hope that my words will ensure that your memory will never be silenced.
 -- Emily Kuwaye, First-Place High School Poetry (Kaimuki Christian School, Honolulu, HI)
Through their testimonies on the Visual History Archive and The 1939 Society websites, Holocaust survivors and rescuers have inspired middle and high school students from across the nation and eight countries outside of the United States to become "Messengers of Memory," the theme of this year's Annual Holocaust Art and Writing Contest sponsored by Chapman University and The 1939 Society.
Nearly 1,000 students, parents, teachers and Holocaust survivors gathered at the awards ceremony on March 9, and many national and international participants watched via live-feed, as students and their educators were celebrated for their achievements and the top-placing entries were announced.  Jenna Leventhal, Deputy Director of Education, presented the middle and high school film finalists and announced the first- and second-place winners.
Guest speaker Eva Brettler, a Holocaust survivor from Cluj, Romania, shared her message of compassion and courage, recalling the women who became her "surrogate mothers" after her mother was murdered, as well as her own courageous actions to help her fellow prisoners in Bergen-Belsen by sharing with them the discarded potato peels she stole. Listen to Eva Brettler's complete talk, view the award presentations, and hear the students share their works on Media Site.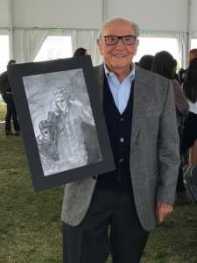 At the reception following the ceremony, Holocaust survivors from Los Angeles, Long Beach and Orange County and students shared messages and created new memories.  Survivors also signed copies of The Holocaust Chronicle, generously donated by Publications International, Ltd, and wrote personalized messages to each student they met.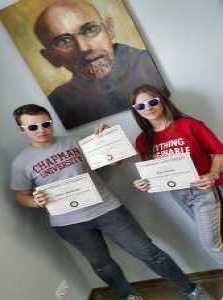 Michael Tebrich, whose mother Sonja was the subject of Gwendolyn Trautman's and Lauren Helner's film "All It Takes," reached out via email to express his gratitude to the students for creating a film about his mother and for becoming her "messengers of memory."
The first and second place short films are available now on the Rodgers Center's YouTube channel. This year's top-placing entries will be posted on the official contest website soon!
[Caption upper left: Taylor Ota, an art finalist from Trabuco Hills High School, shows Eva Brettler the artwork she created after listening to her testimony.]
[Caption right: Holocaust survivor Natan Gipsman holds the first-place artwork created by Kristen Landsman from Delone Catholic High School in McSherrytown, Pennsylvania. Kristen based the artwork on Mr. Gipsman's testimony and will have the opportunity to meet him during the contest study trip to Los Angeles this summer]
[Caption bottom left: School representative Oskar Świdurski and poetry finalist Julia Lesiak of Janusz Korczak High School No. 2 in Wieluń, Poland. Julia is the first student to represent Poland as a finalist.]
Jessica MyLymuk is the assistant director of the Rodgers Center for Holocaust Education in the Sara and Aron Samueli Holocaust Memorial Library at Chapman University.