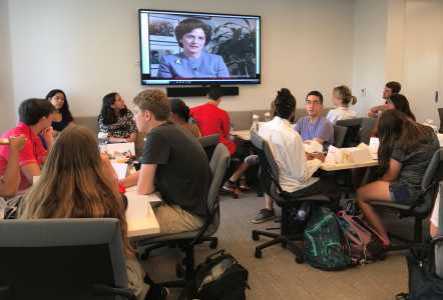 What is an upstander? What shapes our identity? What causes othering? How and why do genocides occur and how are they remembered? In what ways do you choose to become a bystander or to become an active participant in civil society?
These are some of the probing questions this year's crop of students accepted into USC Shoah Foundation's William P. Lauder Junior Internship Program will explore during their summer program, which began today.
All this week, 25 middle and high school students from across the United States
will be gathered at USC Shoah Foundation in Los Angeles to gain a deeper understanding of the causes and impacts of injustice as well as the ways in which individuals can resist. "The student program will focus on the theme of upstanding and delve into questions about core beliefs, identity, and othering," said Lesly Culp, the head of programs in the education department at USC Shoah Foundation. "Through the use of our educational resources in IWitness, students will engage with testimony of genocide survivors to broaden their perspective and deepen their understanding about these topics."
During their stay, interns will learn to decipher patterns of hate, resilience and bravery through the study of past and present antisemitism and other forms of discrimination; apply their learning through service projects and develop their voices to counter hate; and gain work experience, academic and digital skills while engaging with testimony in ways that resonate deeply.
Students will also participate in two activities that center on historical events in Los Angeles that involved discrimination. On Wednesday, they will head to Boyle Heights for an IWalk tour to learn about the storied history of the neighborhood that historically has been a gateway for immigrant communities. IWalk is an interactive educational program that connects physical locations with memories from survivor testimonies.
Later that day, they will visit the Japanese American National Museum in Los Angeles and learn from testimonies from Japanese-American liberators.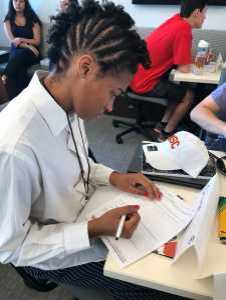 Although the junior interns have a common goal to study the past and present of discrimination, each student provided unique motivations for their participation.
Carinna Anderskow, a junior at Agoura High School in suburban Los Angeles, said her Vietnamese grandmother and grandfather – an immigrant from Honduras – met during the Vietnam War, where he served a tour with the U.S. Army.
"After building a life in Vietnam, the war exploded and they evacuated to the U.S. in 1974 to avoid capture by the Viet Cong," she wrote in an essay. "This was the beginning of severe hardship they would endure to raise a bi-racial family of nine in New Orleans, where my grandparents settled. … This is my family's testimony and I want to share it along with other survivor testimony to help inspire change."
Selma Osei, a ninth-grader at Lisha Kill Middle School in Albany, N.Y., said although she doesn't have a family connection to the Holocaust, she became acutely aware of it in fifth grade, when a Holocaust survivor visited her classroom.
"After the presentation, I was in shock," she said. "This to me was unthinkable. … In my opinion, studying the Holocaust is studying human nature."
Ethan Shatz, a ninth-grader at David Posnack Jewish Day School in Davie, Fla., said he believes the internship will better enable him to stand up to intolerance.
"Having listened to multiple survivors, I recognize that the Holocaust could have been prevented if people were bold enough to say 'enough is enough,'" he said.
Jacob Jacquez, a junior from Captain John L. Chapin High School in El Paso, Texas, said his education about genocide began when he took a job with his father working at the local Holocaust museum.
"This also helped me realize that there are others around the world that undergo more serious situations, when I would sometimes act as if I had a difficult life," he wrote. "We live in very uncertain political times where tolerance and coexistence are not often promoted. I believe that this internship will give me the opportunity to be more accepting of diversity and allow me to educate others."