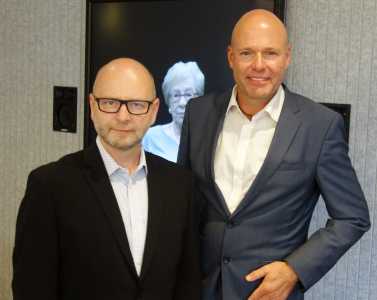 The Consul General of Austria in Los Angeles paid a visit to USC Shoah Foundation this week to familiarize himself with the Institute's work.  
Andreas Launer, who took the position in August of 2017, wanted to see firsthand what he'd heard about the Institute's growing array of interactive projects, such as Dimensions in Testimony and the Institute's VR films.
"It's such an important application of the technology," he said. "It's interesting: You could use the same technology for Disney as well as for this project."
Consul General Launer was also impressed by the measures taken by the Institute's information technology department to ensure that the 55,000 video testimonies stored in the massive Visual History Archive can be migrated to the most current medium. But the shelf life for each medium is shorter than the last: the videotapes on which the original testimonies lived last for 20 years; computer hard drives fail after five years; DVDs, two.
"This was particularly impressive because there is this constant time pressure to conserve," he said. "I was unaware that the time frame is always shorter and shorter. … There is this constant fight against forgetting, really."
Launer also paid a visit to Martin Gruber, the Institute's Austrian Holocaust Memorial Service intern for the year.