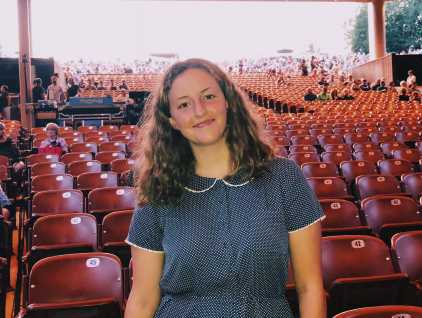 Charlotte Masters owes her existence to an act of kindness.
Her grandmother was rescued from the Holocaust by Nicholas Winton's Kindertransport, which spirited 669 children – most of them Jewish – from Nazi-occupied Czechoslovakia to safe harbor in Britain.
On Friday, Charlotte, a sophomore at Northwestern University in Chicago, will be among 20 student leaders from 14 university campuses from around the country who are convening at USC Shoah Foundation for the second-annual Intercollegiate Diversity Congress.
Participants of the three-day summit that runs through Sunday will have a chance to harness the power of testimony to effect positive change on their respective campuses. It could be said that they will learn to be a little more like Winton, who couldn't abide the persecution of so many in his midst. He was knighted by Queen Elizabeth II in 2003 for his good deeds, which went unnoticed until 1988.
Although Charlotte hails from the opposite coast – she grew up in Washington, D.C.– her familiarity with the Institute runs deep.
Both her paternal grandmother, Alice Masters, and grandfather, Peter Masters – a Jew who fled Austria and fought against the Nazis as an elite British commando – gave their testimonies to the Institute in 1996.
While attending high school, Charlotte, now a cognitive-science major at Northwestern, served for nearly three years as a junior intern with the Institute. At the time, the student at Sidwell Friends School in D.C. participated in regular meetings with fellow junior interns on Skype.
One of her takeaways from those calls was a realization that doing the right thing doesn't always require a "big act of kindness" like the one that saved her grandmother.
"We talked about how an 'innocent bystander' doesn't really exist," Charlotte said. "If you were witness to some event, some injustice in your community, and you're kind of just an onlooker, you don't have to step in and make this grand gesture, but you have to do something."
Charlotte's junior-intern experience inspired her to start a speakers' bureau that brought Holocaust survivors to high schools and elementary schools. Once, Charlotte made arrangements for a survivor to speak with a large group of 10- and 11-year-old students. She was nervous.
"We didn't really know if they were going to be invested in the talk," she said.
Charlotte was pleasantly surprised.
"After she gave her talk, all of them had questions," she said. "All of them were just leaning forward and engaged. A teacher emailed me later to say they wouldn't stop talking about it all week."
At this weekend's summit – which will include students from a broad spectrum of institutions, public and private, large and small, including Michigan State University, Whitman College in Washington state and California State East Bay – Charlotte hopes to gain knowledge and pick up skills that will aid her efforts as a counselor at a peer-orientation program at Northwestern.
Survivor testimony, she said, is invaluable because it brings learners face to face with people who experienced some of the worst extremes of discrimination.
"When you listen to these stories of survival, you are able to hear the things they learned, how they grew, and how they continued to live on," Charlotte said. "And their capacity for kindness and bravery, I think, is really special, and that's something that I don't feel like you can really get from a textbook or from a professor or teacher."
In January of 2015, Charlotte and other junior interns traveled to Poland with USC Shoah Foundation staff and dozens of Holocaust survivors to commemorate the 70th anniversary of the liberation of Auschwitz-Birkenau.
While on a tour at Auschwitz-Birkenau Memorial and Museum, Charlotte and her brother William sought out The Book of Names, whose six-and-a-half-foot-high pages occupy an entire room and contain the names of 4.2 million people murdered in the Holocaust.
Flipping through it, they found the names of their grandmother's parents. It was a big moment: Their fate had been a mystery to the family. Now they knew that Alice's parents had died at Auschwitz.
"We were able to relay that to my grandmother," she said. "It was a special experience that tied up some loose ends after the war."
The weight of Winton's impact on the world then became clear: The legacy of his actions lives on, in succeeding generations like hers, "to carry his kindness into the future."
Reflecting on the experience, Charlotte was reminded of a Winton quote: "Don't be content in your life to do no wrong. Be prepared every day to do some good."