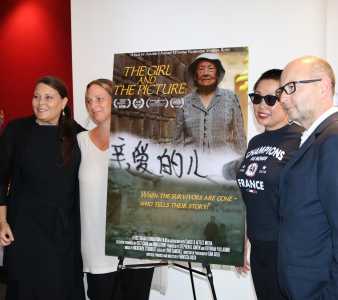 Starting today, The Girl and The Picture, USC Shoah Foundation's documentary about the 1937 Nanjing Massacre, is being shown for one week at the Laemmle Monica Film Center in Santa Monica.
The film screens daily at 12:45 p.m. at the theater at 1332 2nd St.
The film, directed by Academy Award-winning director Vanessa Roth, tells the story of 88-year-old Xia Shuqin, who at the age of 8, witnessed the murder of her family in the horror that would become known as the Nanjing Massacre. Only she and her younger sister survived. They spent two weeks alone in the house, surrounded by the corpses of their loved ones.
The "picture" in the title refers to an image of the young girls that was taken by John Magee, a missionary who, equipped with a movie camera, documented the devastation left in the wake of the Japanese invasion of the Chinese city. Magee's grandson, Chris Magee, returns to Nanjing and meets Xia for the first time.
During an question-and-answer session at a screening of the film Thursday, USC Executive Director Stephen Smith likened Xia to a well-known Holocaust survivor.
"Mme. Xia is the Elie Wiesel of the Nanjing Massacre," he told the audience. "She's a woman struggling to have her story of the massacre make sense to the outside world."
The Girl and The Picture was produced by USC Shoah Foundation Executive Director Stephen Smith and Devorah Palladino. Ceci Chan and Andi Gitow served as executive producers.