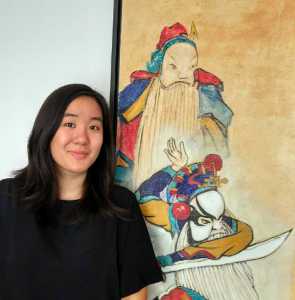 New insights into Jewish life in World War II-era Shanghai were revealed Thursday by Kimberly Cheng during her public lecture as the Center for Advance Genocide Research's 2018-2019 Breslauer, Rutman & Anderson Research Fellow. Her research with survivor testimonies from the USC Shoah Foundation Visual History Archive examined the experiences of Jewish refugees in Shanghai, which became a safe haven for Europeans fleeing antisemitic Nazi persecution.
Cheng's lecture, "American Dreams: Jewish Refugees and Chinese Locals in Post-World War II Shanghai," examined the collision of cultures in Shanghai, which was significantly influenced first by the persecution of Chinese by Japanese invaders throughout the country, then by the influx of Jewish refugees, and after the war ended, by the arrival and presence of U.S. troops.
"This story shows for me the need to think globally and go beyond the timeline of World War II to consider the lasting effects of streams of migration," Cheng said.
Through her testimony research, Cheng surveyed the relationships and interactions of American soldiers, European Jewish refugees, and local Chinese. Cheng showed how Jewish refugees in Shanghai embraced U.S. troops and adopted American behaviors and attitudes, worked alongside Americans, participated in American culture and harbored hopes of immigrating to America.
In her research, Cheng not only writes Central European Jewish refugees back into the changing landscape of postwar Shanghai, she writes Shanghai into Holocaust history, expanding the traditional geographic boundaries (of Europe or the West) that people automatically picture when thinking about the Holocaust.
Without a country, Jewish refugees in Shanghai built connections to America and gained a nation to identify with, which put them at odds with the Chinese in Shanghai, who felt occupied rather than liberated. By triangulating between the perceptions and feelings that Jewish refugees, Chinese, and Americans harbored towards one another during the postwar era in Shanghai, Cheng shed light on the consolidation of Jewish refugees' personal identities and examined the construction of foreignness in Shanghai. 
Kimberly Cheng is a doctoral candidate in the Joint PhD Program in Hebrew and Judaic Studies and History at NYU.