A chance encounter leads to a surprising reunion
Fri, 08/23/2019 - 11:59am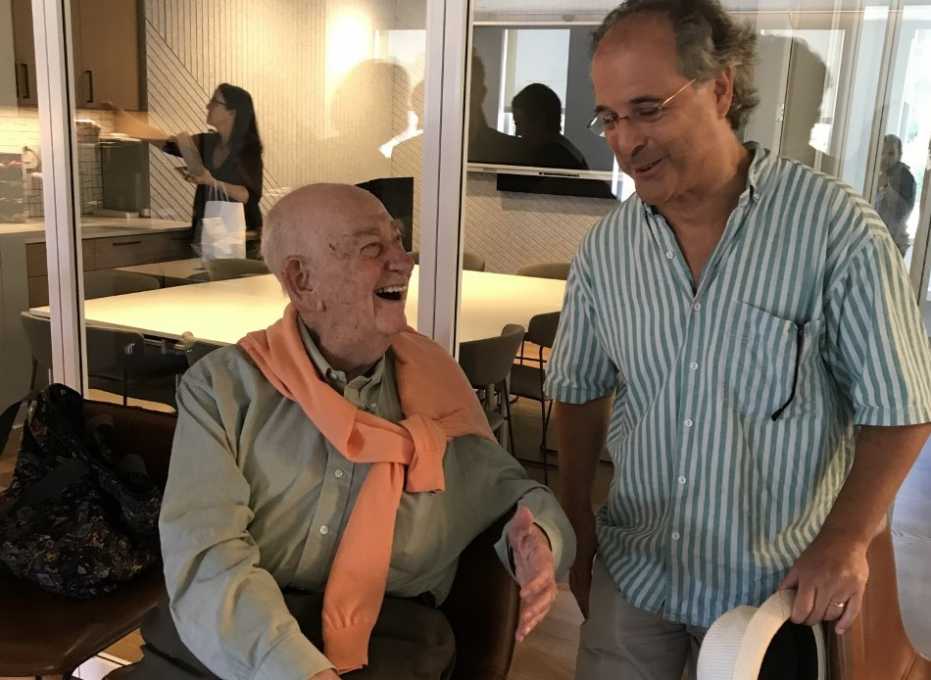 Move-in day for students at the University of Southern California this week led to a remarkable small-world moment between two strangers with ties to the Holocaust in the public-exhibit space of USC Shoah Foundation's lobby.
Fifty-eight-year-old Alexander Moissis of the San Francisco Bay Area and his wife were helping their freshman son move into a dormitory when Alexander decided to steal away for a few minutes to visit USC Shoah Foundation, which is located on campus next to the dorm.
When he arrived at the Institute's new lobby on the fourth floor of Leavey Library, he saw USC Shoah Foundation staff members leading an elderly couple on a tour.
Alexander overheard the couple speaking with Institute staff members of familiar locations from Greece – where his own father grew up as a child, before World War II.
He struck up a conversation with the couple, Julio and Dolly Botton – both Holocaust survivors who'd fled to Mexico after World War II.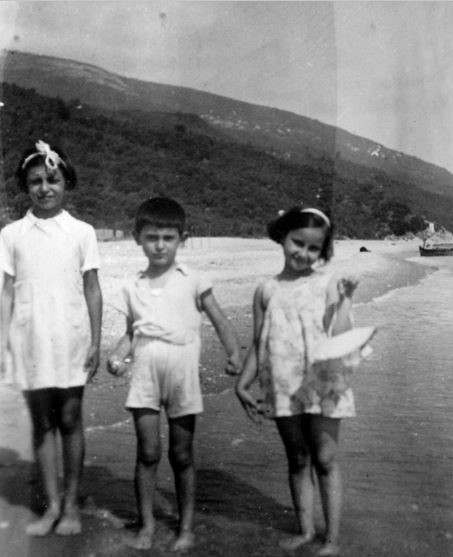 Their chat in Greek quickly became animated, to the bewilderment of USC Shoah Foundation staff. Alexander was astonished to learn that 91-year-old Julio – a native of Thessalonika, Greece – was friends with his own late grandfather, Asher Moissis, who served as a leader in the Jewish community of the city in the early 1930s. (Coincidentally, Julio turned 91 today – on Aug. 24.)
What's more, in the months before the war came to Greece, Julio and Asher's families had vacationed together at a beach on the Pelion Peninsula, where their children would play and run barefoot on the shores of the Aegean Sea.
Alex also learned that Julio was directly related to one of Alex's childhood memories.
Back in pre-war Greece, Julio -- who was five years older then his Alex's father, Raphael -- taught Raphael how to put on a Turkish-style shadow puppet theater performance known as Karagoz.
When Alex was in fourth grade, Raphael passed on that knowledge to him and his classmates.
The war would shatter the idyllic traditions of the Botton and Moissis families. Julio -- whose Spanish-language testimony, along with that of Dolly's, is in the Visual History Archive -- would be shipped to the Bergen-Belsen concentration camp, where British liberators would later capture iconic film footage of skeletal survivors clinging to life amid thousands of corpses.
Back in Greece, Alex's grandfather, Asher Moissis, a Zionist leader in Thessalonika, defied a mandate of the Axis occupiers in 1943 ordering all Jews to report themselves to authorities. He and his family – which included young Raphael and Miretta – were hidden by a civil servant and notary public named Constantine Giannitis.
Earlier this year, Giannitis was posthumously awarded the "Righteous Among the Nations" title that is bestowed by the Yad Vashem Holocaust Memorial Museum of Israel to non-Jews who saved Jews during the Holocaust.
Alexander told his father, Raphael, about the chance meeting in the lobby of USC Shoah Foundation on Aug. 21; Raphael in turn sent Julio a friendly email.
"As a grown up man, I visited the square in front of the Hotel where we had stayed, I was surprised that I could see the Aegean -- I was too short to see it when we were there together!" he wrote. "It is a small world indeed!"