Educators Find Online Expertise and Content in IWitness
Tue, 05/05/2020 - 4:22pm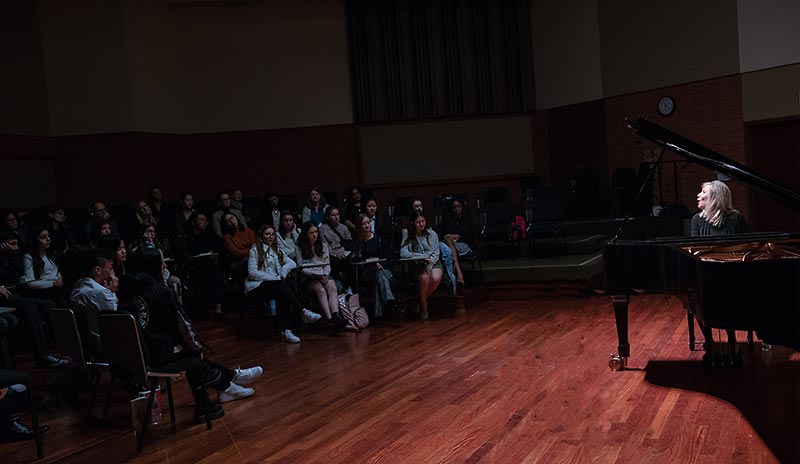 Mona Golabek folds her arms and smashes them down across the piano, bringing to a cacophonous halt Grieg's Piano Concerto in A minor – the piece her mother had dreamt of playing in a Vienna concert hall, but instead played as Nazi bombs fell on the London orphanage where she lived.
"My mother pounded out that music, because she was determined to hold on to her music, to hold on to her dreams," Golabek tells the 500 students and educators in her audience.
"This could be a remarkable time for all of you to figure out, even in these dark times, what is my dream? How do I want to walk through life?" Golabek says.
Usually, Golabek interacts with students when she performs her theatrical show, The Pianist of Willesden Lane, based on her mother's story of fleeing Vienna on the Kindertransport in 1938, at the age of 14. Her mother, Lisa Jura Golabek, later became a concert pianist.
But today, Golabek, herself an internationally recognized piano virtuoso, is at the baby grand in her home, and students respond through a chat box during a recent webinar for students offered by the USC Shoah Foundation education team in partnership with Mona Golabek and her Hold on to Your Music Foundation.
"She is so graceful when she plays," Makenna writes.
"Music has infinite possibilities," Peter writes.
In response to the COVID-19 pandemic, USC Shoah Foundation education team has adapted its already robust online content and tools in IWitness to meet current educational demands for online teaching and learning.
Nearly 4,000 users have accessed the resources on the COVID-19 page in IWitness, which offers a curated suite of virtual classroom-ready resources in multiple languages for educators and students around the world. As the Institute's main portal to testimony-based educational resources, IWitness serves as a critical tool in the Institute's education outreach efforts that has resulted in worldwide reach of more than 100,000 educators and 10 million students.
IWitness harnesses both the technical and pedagogical challenges of online classrooms, and provides content that teachers need to give students a meaningful experience through a screen.
"Digital content is who we are and what we do, so we have been able to respond to educational needs quickly in this crisis," said Lesly Culp, head of education programs at USC Shoah Foundation.
Culp and her team have offered extra teacher training, flagged relevant content for various age groups, and created new programs for students. All IWitness trainings and tools are available at no cost.
Golabek's session is part of the Institute's Mindful Explorations series of lessons recently launched that focus on developing students' social-emotional skills through exploration of testimony culled from USC Shoah Foundation's Visual History Archive.
IWitness launched Mindful Explorations in 2019 as 10-minute modules meant to be implemented in the classroom daily. In the weeks following the COVID-19 shutdowns, the team turned those short modules into 40-minute webinars for students in primary grades to university that were accessed live or on-demand.
A unit about overcoming obstacles presents students with the testimony of Jewish survivors and African American liberators of concentration camps, and the prejudices they faced.
A session on gratitude highlights the testimony of a woman who survived the Cambodian Genocide. She speaks about a girl who gave her shoes made of banana leaves as she escaped through the jungle on blistered feet.
The session with Golabek is one of four student webinars on resilience.
Culp, previously a teacher of more than 20 years, facilitates. She immediately engages the students by asking them where they're from – the chat box scrolls wildly – and with a pop-up poll:
"I bounce back easily from challenges I face in my life."
Within a minute, the results appear with nearly 73 percent saying they agree or strongly agree.
Soon, Culp asks students to reflect on why Lisa's piano teacher encouraged her to keep playing, even though he was no longer allowed to teach her.
Culp reads out some of the responses from the chat box.
"Because people are often put down and so she wouldn't give up," Saia writes.
"Also maybe to use it as a creative outlet during a hard time," Faith writes.
Golabek continues to tell her mother's story as she plays Debussy's Clair de Lune – the sheet music Lisa packed into her small bag when she had to say goodbye to her parents.
"Hold on to your music, it will be your best friend," Lisa's mother told her. "And I will be there with you every step of the way, through your music."
After the students share their thoughts in the chat box or in private response boxes, Culp introduces  a clip of testimony from Vera Gissing's interview, whose mother brought Vera outside to peer at the sky the night before she sent her away from their home on the Kindertransport.
"She said that there might be times when we can't write to one another, but we will let the stars of the night and the sun of the day be the messenger of our thoughts and our love," Gissing said in the taped interview.
"Stories are so powerful because students connect to them," Golabek said later. "They ask themselves, 'What does this mean in my life? What do I take from this story, and from this time, that will empower me and provide for my dream?' "
This webinar was a first for Golabek, who has reached 500,000 students through her performances and city-wide reads of her book, The Children of Willesden Lane.
Golabek's Hold On to Your Music Foundation entered into partnership with USC Shoah Foundation in February 2020. The partnership, generously funded by the Koret Foundation, aims to reach 8 million students in the next five years with innovative educational content, professional development and live, virtual and immersive performances.
Golabek's Mindful Exploration student webinar, put together in response to teacher and students' needs during COVID19, provided an early look into online possibilities.
As a closing activity, students were given instructions for building an origami heart box to hold their own emotional anchors.
"I definitely connected with Mona/Lisa on how they used their music to keep them going through times of change," one tenth grader wrote. "I've moved a lot, and personally used music to help me stay grounded to my roots. So that's why in my heart box I have 'music' in there, along with pictures, books, and my memories."